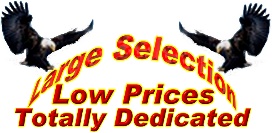 THE BARGAIN OUTLET WHOLESALE
Mail 608 S. 2nd Street
Marshall, Illinois 62441 United States
Phone: 217-822-6230
E-Mail: bargainoutletwholesale@gmail.com

---
Minimum Order: $100.00
30 items found: Page [ 1 ] [2] <Next Page>
(*) in price column means Quantity Discounts Available!
Click on item name to see full details and picture if available.

Item #
Description
Price
Unit
tm1886L
5 Oz. Punch Ladle
5 oz. Clear "Contessa" Pattern Punch Ladle.

0.99
Each (Minimum 3 pieces)
B250A-D
Baby Girl With Bear Assortment
Baby Girl With Bear. 2.5" H Resin. 4 Assorted.

* 1.25
per piece (Minimum 12)
Y20264
Black Bear Shelf / Computer Sitter
Sits on the shelf or computer. 2 Assorted. 5.5" L

* 2.75
Each (Minimum 6)
espdj288
Black Bear With Cub
Momma and cub climbing tree.

* 9.25
Each Minimum 2 pieces
25rosespray
Burgundy Rose Spray - SPECIAL Price $2.33
25" Burgundy Rose Spray. SPECIAL.. SEE FULL DESCRIPTION. As Low As $2.33 each.

* 3.50
each
Y27226 - Y27227
Country Bread Board Plaques Get 1 FREE
Country Bread Board Plaques Assortment "Welcome" and "Faith Family, Friends".

* 5.50
Each (Min. 2 Pcs) Buy 4 Get 1 FREE
Y20444
Cow Print Milk Can Soap Pad Holder $4.25
7" H. Cow Print Milk Can Soap Pad Holder. Great kitchen accessory.

* 4.85
Each ( Minimum 3 Pieces)
wgs.ch1369/12
Cute Double Piggy Cookie Jar $21.39
12.5"L X 9.3"H Cute Double Piggy Cookie Jar.

* 28.38
Each
3l241033fx
Diamond Cut Rings
Assorted colors. .033 Each. Great perceived value!

1.55
Unit (4 Dozen) *MINIMUM 3 Units
33019
Double Cookie Angels On Cloud $1.02
Approximately 2 7/8" L. Resin.

4.09
Unit (4 Pieces)
nv1714
Extendable - Foldable Selfie Stick Special $4.99
Fits most smartphones & digital cameras. Taking self portraits and videos has never been easier. Perfect for traveling, video diaries, weddings, parties, concerts, sporting events, and more. No more asking others to take your picture. Assorted colors. As low as $4.99

* 6.42
Each (Minimum 3 pcs.)
fe.hz-6/1259
Fluffy White Embossed Bean Bag Dog WIth "Hug Me" Pillow
8" L. Fluffy white dog with 2.25" red heart "HUG ME" pillow. LIMITED SPECIAL $2.25 EACH (Minimum 24 pcs.)

* 3.00
Each (Minimum 3 Pieces)
pencflrs
Foil Flowers Pencil
Foil Rose Pencils, Foil Sunflower Pencils, Foil Daisies.

* 1.55
Dozen
SYI.5114-5
Guest Book
Guest Book White w/ Gold Print on cover (this book could be used for open house, grand openings, anniversaries or weddings).

* 3.00
each
tmp.2913c-grn
Heavy Duty Table Skirt - Green +*FREE Merchandise
29" X 13'. Fits 8' banquet tables.

* 3.94
Each (Minimum 3 pcs) + Free Merchandise 3-23 Pcs.
30 items found: Page [ 1 ] [2] <Next Page>
This is a SECURE web site.
Orders processed within 24-48 business hours (Pay Pal orders may require an extra business day).
*As an added security for your information, we DO NOT ask for the CVV number (last 3 - 4 digits on the back of your credit card) online. In order to expedite your order faster, please telephone 217-822-6230 with the required information (9 A.M. - 5 P.M. CST)
Warehouse Visits: 24 Hour "Advance Order" online or by telephone required (you may add to order upon arrival). Warehouse visits by appointment only.
We NO longer accept orders by e-mail from unestablished clients.
Like us on Facebook https://www.facebook.com/jaxfollies. Informational site: festival and special events, tips for your business, product info, pending legislation, SPECIAL DISCOUNTS for Jax Follies Friends and more.
Festival, Parades, Flea Market Info.: https://sites.google.com/site/jaxfolliesfriends