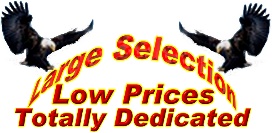 THE BARGAIN OUTLET WHOLESALE
Mail 608 S. 2nd Street
Marshall, Illinois 62441 United States
Phone: 217-822-6230
E-Mail: bargainoutletwholesale@gmail.com

---
Minimum Order: $100.00
9 items found: Page [ 1 ]
(*) in price column means Quantity Discounts Available!
Click on item name to see full details and picture if available.

Item #
Description
Price
Unit
bombbagn
Bomb Bags .0833
Exploding Bag. Great flea market or checkout impulse item!

* 1.25
Per Doz ( Min. 6 Dz) Sold in increments of 6 dz.
sf4003
Party Poppers *FREE Box
AKA Champagne Poppers. Popping, burst of confetti when the string is pulled. SAVE IN QUANTITY! *SEE SPECIAL!

* 3.78
Box (Minimum 3 boxes) 1 Bx FREE w/ 8 bxs.
56827j
Plastic Round Caps
72 Shot Plastic Round Caps.

* 3.65
Dozen (Minimum 6 Dz.)
sf.4014
Snap & Pops - Premium
Makes a pop sound when thrown against a hard surface.

* 7.73
Box
catreq
Z. CATALOG REQUEST
We'll be happy to send you an updated catalog.

CALL
Ea.
orderinfo
z. ORDERING INFORMATION
How To Order, Processing, Payment, Shipping, Warehouse Information, and More.

CALL
Per Order
TAF=FREE merchandise
z. TELL-A-FRIEND - Earn $25, $50, $100
TELL-A-FRIEND about THE BARGAIN OUTLET WHOLESALE and receive $25 FREE merchandise. SEE Full Description for details.

CALL
Each
USPSrestrictions
z. USPS - PARCEL POST RESTRICTED ITEMS
US Postal Service - PARCEL POST RESTRICTED ITEMS: Knives, Hair Color, Fireworks (includes Plastic Round Caps, Fart Bombs, Bomb Bags, Snap & Pops, Party Popprs, etc).

CALL
per unit
For Your Information
z. Are Sparklers and Other Novelty Fireworks Legal in My State?
FOR YOUR INFORMATION: Laws vary from state to state, as well as county & city ordinances may also have restrictions. See Full Description.

CALL
Unit
9 items found: Page [ 1 ]
This is a SECURE web site.
Orders processed within 24-48 business hours (Pay Pal orders may require an extra business day).
*As an added security for your information, we DO NOT ask for the CVV number (last 3 - 4 digits on the back of your credit card) online. In order to expedite your order faster, please telephone 217-822-6230 with the required information (9 A.M. - 5 P.M. CST)
Warehouse Visits: 24 Hour "Advance Order" online or by telephone required (you may add to order upon arrival). Warehouse visits by appointment only.
We NO longer accept orders by e-mail from unestablished clients.
Like us on Facebook https://www.facebook.com/jaxfollies. Informational site: festival and special events, tips for your business, product info, pending legislation, SPECIAL DISCOUNTS for Jax Follies Friends and more.
Festival, Parades, Flea Market Info.: https://sites.google.com/site/jaxfolliesfriends