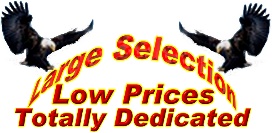 THE BARGAIN OUTLET WHOLESALE
Mail 608 S. 2nd Street
Marshall, Illinois 62441 United States
Phone: 217-822-6230
E-Mail: bargainoutletwholesale@gmail.com

---
Minimum Order: $100.00
3 items found: Page [ 1 ]
(*) in price column means Quantity Discounts Available!
Click on item name to see full details and picture if available.

Item #
Description
Price
Unit
chrteaset
Christmas Tea Set **$2.70
Christmas 10 Pc. Tea Set.

* 3.60
Per Set
LtUpYdWitch
Light Up Yard Witch - SPECIAL $2.50
Yard Decoration. Corrugated plastic witch with wire stakes. The witch is adorned with clear electric lights. Great decoration for the yard, garden or haunted barn or house. Buy 5 - Get 1 FREE.

* 5.75
Each - Min. 3 pcs
apprwolri
Pillow: Printed Wolf Pillow
13" Cute Pillow.

* 7.25
Each Special.Buy 4 Get 1 FREE
3 items found: Page [ 1 ]
This is a SECURE web site.
*Please remember that the lower amount of your order, the higher the freight ratio is. We have NO control over the amount charged by USPS or UPS on your freight. We're stuck with the high freight charges too, on incoming freight.
Orders processed within 24-48 business hours (Pay Pal orders may require an extra business day).
*As an added security for your information, we DO NOT ask for the CVV number (last 3 -4 digits on the back of your credit card) online. In order to expedite your order faster, please telephone 217-822-6230 with the required information (9 A.M. - 4 P.M. CST)
Warehouse Visits: 24 Hour "Advance Order" online or by telephone required (you may add to order upon arrival). Warehouse visits by appointment only.
We NO longer accept orders by e-mail from unestablished clients.
Like us on Facebook https://www.facebook.com/jaxfollies. Informational site: festival and special events, tips for your business, product info, pending legislation, SPECIAL DISCOUNTS for Jax Follies Friends and more.
Festival, Parades, Flea Market Info.: https://sites.google.com/site/jaxfolliesfriends
Click here for our newsletter and special offers.