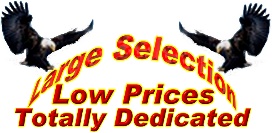 THE BARGAIN OUTLET WHOLESALE
Mail 608 S. 2nd Street
Marshall, Illinois 62441 United States
Phone: 217-822-6230
E-Mail: bargainoutletwholesale@gmail.com

---
Minimum Order: $100.00
49 items found: Page [ 1 ] [2] [3] [4] <Next Page>
(*) in price column means Quantity Discounts Available!
Click on item name to see full details and picture if available.

Item #
Description
Price
Unit
FreeSpecials
1. FREE Merchandise EXTRAVAGANZA! MOVING SPECIAL!
We lost the lease on one of our warehouses. Let's face it --it's expensive to move (even if it's across town)! We would rather give it to you as an ADDITIONAL SAVINGS than move it. Check the many items "FREE" merchandise with selected purchase. Great way to build inventory with less investment.

CALL
Each
nv1790ni
1. Trump Stress Squeeze Ball $1.85
Just squeeze. Relieves tension (the ball .. not Trump). Get ahead of 2020! Love Trump? Hate Trump? HOT! HOT! $1.94 Each - minimum 24 pieces; only $1.85 each - minimum 60 pieces.

* 2.17
Each Minimum 12 Pcs.
jbunisl
9" Unicorn Slap Bracelet
Very cute & lots of fun! .959 Each when you buy 12 or .7296 each when you buy 144 slap bracelets.

* 11.50
Dz.
bombbagn
Bomb Bags .0833
Exploding Bag. Great flea market or checkout impulse item!

* 1.25
Per Doz ( Min. 6 Dz) Sold in increments of 6 dz.
nvhaircolor
Color Hair Spray *2 FREE Color Spray
Assorted BRIGHT colors per display.

* 1.40
Each (Minimum 12 pieces) *2 FREE W/12 pc purchased
nv1714
Extendable - Foldable Selfie Stick *Special $4.99
Fits most smartphones & digital cameras. Taking self portraits and videos has never been easier. Perfect for traveling, video diaries, weddings, parties, concerts, sporting events, and more. No more asking others to take your picture. Assorted colors. As low as $4.99

* 6.42
Each (Minimum 3 pcs.)
n63144 - 63149_c45+
Feather Hair Extensions *SPECIAL Pricing
13" - 20" L. Feather Hair Extensions. Assorted styles. Fashionable and very pretty. ***AS LOW AS .52***

* 0.64
Ea. Min. 12 Pcs. / Style *Qty price = Asst. Style
fsa72
Fidget Spinner Deluxe Assortment $1.25 + *Free Merchandise
Assorted Styles Fidget Spinners....6 Different styles, assorted colors - patterns. BONUS - $25 FREE merchandise with $100 Spinner purchase (on you next order).

1.25
Each (Minimum 72 pcs. *$25 fREE Mds. $100 Spinner
ngitdufopatcolgid
Fidget Spinner Ninja G.I.T.D - UFO - Pattern Assortment $1.00
Get an assortment of quality fidget spinners with less investment. ***SPECIAL - PRICES SLASHED! LOWER PRICES!***AS LOW AS $1.00!***

* 2.73
Ea. Min. 12 Pcs.
84pkgasst
Fidget Spinner PACKAGE ASSORTMENT - LOWER PRICE
Prices & Minimums have been SLASHED! Get a variety of Fidget Spinner styles for less investment! BONUS - $25 FREE merchandise with $50 Spinner purchase (on you next order).

1.67
Each Minimum 84 pieces *Cash & Carry FREE Mdse $50
1591njgid/nv
Fidget Spinners - Ninja Glow In The Dark $1.00 + FREE Merchandis
Assorted colors 2 Styles Ninja Glow-In-The-Dark Fidget Spinners. Help relieve anxiety, stress, boredom, nail biting, & more. Quality Spinners. BONUS - $25 FREE merchandise with $60 Spinner purchase (on you next order).

* 3.24
Ea. Min. 3 Pcs.
1591pnv
Fidget Spinners - Pattern Series $1.375 ** $1.25 + *Free Mdse
Assorted colors & printed pattern. Help relieve boredom, stress, anxiety, nervousness, & more. BONUS - $25 FREE merchandise with $60 Spinner purchase (on you next order).

* 3.44
Each - Minimum 12 Pcs.
7990ac
Fidget Spinners - Solid Color $1.00
Spin'em, Twirl'em.

* 2.52
Each (Minimum 12 Pcs.)
vbfg
Fingerless Driving- Biker - Exercise Gloves -2 FREE
Black Vinyl Fingerless Driving, Biker & Exercise Gloves. One size fits most. 2 FREE with each dozen.

13.20
Dozen (2 Free With each dozen)
nv1159n
Flashing Pacifier Necklace $0.805 Each
Pacifier flashes different colors. Batteries included.

* 13.20
Dozen (Minimum 2 Dozen in lots of 2 dz. )
49 items found: Page [ 1 ] [2] [3] [4] <Next Page>
This is a SECURE web site.
Orders processed within 24-48 business hours (Pay Pal orders may require an extra business day).
*As an added security for your information, we DO NOT ask for the CVV number (last 3 - 4 digits on the back of your credit card) online. In order to expedite your order faster, please telephone 217-826-6230 or 217-822-6230 with the required information (9 A.M. - 5 P.M. CST)
Warehouse Visits: 24 Hour "Advance Order" online or by telephone required (you may add to order upon arrival). Warehouse visits by appointment only.
We NO longer accept orders by e-mail from unestablished clients.
Like us on Facebook https://www.facebook.com/jaxfollies. Informational site: festival and special events, tips for your business, product info, pending legislation, SPECIAL DISCOUNTS for Jax Follies Friends and more.
Festival, Parades, Flea Market Info.: https://sites.google.com/site/jaxfolliesfriends
Click here for our newsletter and special offers.