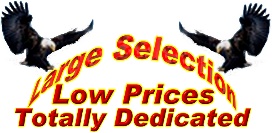 THE BARGAIN OUTLET WHOLESALE
Mail 608 S. 2nd Street
Marshall, Illinois 62441 United States
Phone: 217-822-6230
E-Mail: bargainoutletwholesale@gmail.com

---
Minimum Order: $100.00
85 items found: <Previous Page> Page [1] [2] [ 3 ] [4] <Next Page>
(*) in price column means Quantity Discounts Available!
Click on item name to see full details and picture if available.

Item #
Description
Price
Unit
ppm
Paper Play Money .04
Play money in assorted denominations.

*6.02
per gross (144 pieces)
pillpuzwatch
Pill Puzzle Watch Special $6.75
Assorted...Green, Blue & Orange Pill Puzzle Watch. YOUR COST is ONLY .0469 each (See full description).

*11.75
Gross (144 Pieces)
fe.39/14V
Plastic Jumping Frogs *$2.25
Assorted Colors. Great for grab bags, piņatas, treasure chests, games, & more.

*2.80
Per Gross
PLRABW/BAB
Plush Rabbit Holding Baby Bunny
17" Plush Mamma Rabbit Holding Baby Bunny.

4.40
Each
Ust.ST5153/c.de0
Plush St. Bernard - 20"
20" Plush.

*6.55
Each (Minimum 2 Pieces)
kc004plu
Pooping Pig Key Ring - 2" $1.00
Very Cute! Just squeeze...Watch the reaction of your guests (brown oozes out of his behind).

*15.00
Dozen (1 Dz. = Bulk) *(2 Dozen per display box)
cotiahe
Princess Tiara With Heart Stone
A must have for all the little princesses.

*0.69
Each (Minimum 5 Pieces)
mdseasstsample
Sample Pack - Merchandise General Assortment
Merchandise Sample General Merchandise Assortments. Large Selection at a LOW Price!

55.00
Per Sample Collection
ba321ni
Slap Bracelet - 3 D Glitter Animal Assort. *$0.525
Assorted 3 D animals in glistening rainbow colors on pretty slap bracelets. Special price on 3 D Animal Slap Bracelets $6.30 dozen (.525 each) minimum 4 dozen.

*7.55
Dozen (Minimum 2 Dozen)
sbknos3
Smile Face Knobby Ball - 3"
Knobby Ball sold inflated.

*9.75
Dz.
sbknos3
Smile Face Knobby Ball - 3"
Assorted colors. Very cute.

*9.75
Dz.
241163fx
Smile Face Slap Bracelets
Assorted colors.

1.95
Dozen
ac.t8500
Snap & Pops $7.59 SPECIAL
Makes a pop sound when thrown against a hard surface.

*9.65
Box
nv1811p
Snorting Squeaking Squeeze Pig
Squeeze pig to hear him snort. Very cute.

*1.95
Ea. Min. 3 pieces
ca-swblcrn
Stainless Steel Switchblade Comb
9" Stainless Steel Switchblade Comb. Comb flips open like a switchblade. Harmless fun.

16.80
Dozen
stickers
Sticker Assortment
Assorted stickers (carded with hangable header).

6.00
Dozen Cards
hastshe
Straw Sheriff Hat With Star $1.3958
Straw Hats are trimmed in red and blue with plastic sheriff star. SPECIAL PRICING $19.20 dozen, minimum 3 dozen.

*19.75
Dozen
rdsuper
Super Hero Rubber Duck - 2"
2? Rubber ducks with assorted super hero garb. Great for bath time fun, party favors, carnival prizes, duck ponds, & more.

*5.25
Dozen
tcgba
Treasure Chest - Grab Bag Assortment *$12.87
125 Piece TREASURE CHEST - Grab Bag Assortment. Assorted small toys.

*16.99
Per Assortment
samp.smt241
Treasure Chest Toy Sampler - 240 Pieces + FREE MERCHANDISE
SPECIAL Toy Sampler has 240 small toys.

39.07
Unit +$5.00 Free Mdse
UC6038M
Unicorn Mirrored Sunglasses *$2.50
Mirrored Lenses with unicorn in lenses.

*13.00
Dz. *Quantity prices = ASSORTED STYLES
jbunisl
Unicorn Slap Bracelet - 9" $0 .75
Very cute & lots of fun! .959 Each when you buy 12 or .75 each when you buy 144 slap bracelets.

*11.50
Dz.
ty56608j
Uzi Cap Gun - 6" Special $0.8575
Get more bang for your buck with less investment. Cap gun shoots plastic round caps.

*12.85
Dz
dx217272aa
Warrior Sword With Case $1.57 Drastically REDUCED
22.25" Plastic sword with sheath. All little warriors love to slash & thrust their way to stardom.

2.09
Each
13682084f
Water Bird Whistles
Put water into the bird to make a great sounding whistle.

*1.40
Dozen (Min. 6 dozen)
85 items found: <Previous Page> Page [1] [2] [ 3 ] [4] <Next Page>
This is a SECURE web site.
*Please remember that the lower amount of your order, the higher the freight ratio is. We have NO control over the amount charged by USPS or UPS on your freight. We're stuck with the high freight charges too, on incoming freight.
Orders are processed within 48 business hours (Pay Pal orders may require an extra business day).
*As an added security for your information, we DO NOT ask for the CVV number (last 3 -4 digits on the back of your credit card) online. In order to expedite your order faster, please telephone 217-822-6230 with the required information (9 A.M. - 4 P.M. CST)
Warehouse Visits: 24 Hour "Advance Order" online or by telephone required (you may add to order upon arrival). Warehouse visits by appointment only.
We NO longer accept orders by e-mail from unestablished clients.
TELEPHONE ORDERS: All telephone orders MUST BE backed up by a written order by email. NO EXCEPTIONS.
Like us on Facebook https://www.facebook.com/jaxfollies. Informational site: festival and special events, tips for your business, product info, pending legislation, SPECIAL DISCOUNTS for Jax Follies Friends and more.
Festival, Parades, Flea Market Info.: https://sites.google.com/site/jaxfolliesfriends