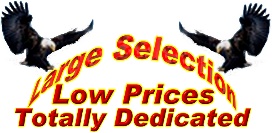 THE BARGAIN OUTLET WHOLESALE
Mail 608 S. 2nd Street
Marshall, Illinois 62441 United States
Phone: 217-822-6230
E-Mail: bargainoutletwholesale@gmail.com

---
Minimum Order: $100.00
22 items found: Page [ 1 ]
(*) in price column means Quantity Discounts Available!
Click on item name to see full details and picture if available.

Item #
Description
Price
Unit
nov20deduction
$20 Gift Certificate - FREE
Limited time - Receive $20 OFF of your order.

CALL
$20 OFF 1st Price $200 Order
ty14292ac
Black Super Detective .38 Cap Pistol
Shoots 72 Shot Plastic Round Caps.

* 10.25
Dozen
nvhaircolor
Color Hair Spray *Special Price $1.10
Assorted BRIGHT Colored Hair Spray SPECIAL PRICE $1.10 each (See full description).

* 1.40
Ea (Min 12 Pcs) 36 FREE Party Poppers w/12 Cans
dfta
Deluxe Full Feather Tiara Assortment .756
50 Full Feather Tiaras per box.

* 50.40
Per box of 50
ha-boarb
Feather Boas 60gr - Rainbow $3.50
6' Feather Boas are great for dances, carnivals, New Year's party's, Mardi Gra, Halloween, dress up, and more.

* 4.25
Each (minimum 3 pieces per color))
n63144 - 63149_c45+
Feather Hair Extensions *SPECIAL Pricing
13" - 20" L. Feather Hair Extensions. Assorted styles. Fashionable and very pretty. ***AS LOW AS .52***

* 0.64
Ea. Min. 12 Pcs. / Style *Qty price = Asst. Style
ldc0079
Giant's Google Eye Glasses *SPECIAL .87
Google eye nerd glasses. Great party item. See full description for SPECIAL.

* 1.05
Each - Minimum 6 Pieces
fe/fgc
Gold Foil Crown *Warehouse Special $0.12
4" H. X 24" L. foil crown. Great for all your little princesses & princes. A pageant must.

* 1.80
Dozen
nv1403slc
Light Up - Flashing Slotted Colored Glasses $1.2625
Assorted colors...LED Slotted Glasses. A light-up must for street dances, night parties, parades & more.

19.20
Dozen
haspineri
Nylon Neon Spiky Baseball Hat *Special $4.99
Bright neon spikes on the front of a nylon baseball hat (Green, yellow, blue, and pink).

* 7.50
Each
inpirsw
Pirate Sword Inflate - 24" *$0.5625
Also available in the "DELUXE INFLATE ASSORTMENT". Pirate Inflatable Sword is great for game prizes.

* 9.00
Dz.
cotiahe
Princess Tiara With Heart Stone
A must have for all the little princesses.

0.69
Each (Minimum 6 Pieces)
r/gth
Red Glitter Top Hats
Red Glitter Top Hat is great for themed parties, decorations & more. Very elegant.

1.50
Each (Minimum 4 pcs.)
aci9049
Soft Dart Duck Rifle Play Set - 19" $1.45
Includes gun, soft darts and plastic ducks. Very popular item!

* 18.60
Dozen
hastshe
Straw Sheriff Hat With Star $1.3958
Straw Hats are trimmed in red and blue with plastic sheriff star. SPECIAL PRICING $19.20 dozen, minimum 3 dozen.

* 19.75
Dozen
30006ac
Umbrella Hats 20" $1.15
**Assorted colors. $1.65 Each (12), $1.3333 each (60), or $1.15 each (108).

* 19.80
Dozen
ty56608j
Uzi Cap Gun - 6" Special $0.8575
Get more bang for your buck with less investment. Cap gun shoots plastic round caps. $1.07 Each (minimum 12 cap guns). Approximately .85 each with quantity price.

* 12.85
Dz
dx217272aa
Warrior Sword With Case $1.85 SPECIAL
22.25" Plastic sword with sheath. All little warriors love to slash & thrust their way to stardom.

* 2.09
Each
21097ac
Wild West 2 Gun & Holster Play Set $1.407
2 Piece Cowboy Gun & Holster Set. Special low price of $17.25, minimum 4 dozen. COMPARE to National wholesale distributor of $$18.00 dozen, minimum 4 dozen.

* 21.00
Dozen
ordprocess
z. Order Processing
Orders are processed within 48 business hours. *The time after the order is processed and the time the freight company picks up the order is not included in this 48 hour window.

CALL
orderinfo
z. ORDERING INFORMATION
How To Order, Processing, Payment, Shipping, Warehouse Information, and More.

CALL
Per Order
catreq
zz. CATALOG REQUEST
We'll be happy to send you an updated novelty catalog or gift catalog with pictures & prices.

CALL
Ea.
22 items found: Page [ 1 ]
This is a SECURE web site.
*Please remember that the lower amount of your order, the higher the freight ratio is. We have NO control over the amount charged by USPS or UPS on your freight. We're stuck with the high freight charges too, on incoming freight.
Orders processed within 24-48 business hours (Pay Pal orders may require an extra business day).
*As an added security for your information, we DO NOT ask for the CVV number (last 3 -4 digits on the back of your credit card) online. In order to expedite your order faster, please telephone 217-822-6230 with the required information (9 A.M. - 4 P.M. CST)
Warehouse Visits: 24 Hour "Advance Order" online or by telephone required (you may add to order upon arrival). Warehouse visits by appointment only.
We NO longer accept orders by e-mail from unestablished clients.
Like us on Facebook https://www.facebook.com/jaxfollies. Informational site: festival and special events, tips for your business, product info, pending legislation, SPECIAL DISCOUNTS for Jax Follies Friends and more.
Festival, Parades, Flea Market Info.: https://sites.google.com/site/jaxfolliesfriends
Click here for our newsletter and special offers.