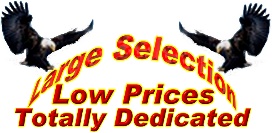 THE BARGAIN OUTLET WHOLESALE
Mail 608 S. 2nd Street
Marshall, Illinois 62441 United States
Phone: 217-822-6230
E-Mail: bargainoutletwholesale@gmail.com

---
Minimum Order: $100.00
10 items found: Page [ 1 ]
(*) in price column means Quantity Discounts Available!
Click on item name to see full details and picture if available.

Item #
Description
Price
Unit
7503CM/JR
Children's Goggle
Color mirror lense. Assorted color marbled frames.

* 16.60
Dz. *QTY Prices LIMITED to ASSORTED Styles
4109 CM
Clip Ons - Color Mirror $2.50
Color Mirror Clip On Sunglasses. Clips on over prescription glasses. **SEE SPECIAL

* 13.15
Dozen **Special (6 Dz+ - $5 / $3.95 Dz ASSORTED St
7771 CM / JR
Color Mirror Sports Goggle - Juniors $2.50
Color Mirror Sports Goggle - Juniors. Black frames-Color Mirror Lens (May contain some dark marble frames).

* 13.65
Per Dozen (12 Dz. = Special)
6744 CM
Speckled Framed Goggles
Speckled Framed Goggle Sunglasses. Assorted colors.

1.10
Each (Minimum 10 Pieces)
4211CM
Sports Color Mirror *$2.50
Color mirrored lens with sports style wire frames. **See SPECIAL PRICING.

* 12.45
Dozen *$5 Dz. Minimum 6 Dz. ASSORTED STYLES
7194-7195CM
Spring Hinge Goggle Assortment *Special $2.50
Sports - assorted frames.

* 20.00
Dz. *QTY Prices LIMITED to ASSORTED Styles
sunglasspecial
Sunglass Assortment Special $2.50
SAVE BIG TIME! Sunglass Clearance on ASSORTED STYLES. Below cost...

* 14.00
Per Dozen (Quantity Price = ASSORTED Styles)
sgs
Sunglass Strings
19' L. Tired of laying your glasses down & not remebering where you laid them? Great way to keep track of your glasses.

* 0.90
Dozen
5526CM
Sunglasses - Goggle *Special $2.50
Color Mirror lenses.

* 18.98
Dz. *QTY Prices LIMITED to ASSORTED Styles
TAF=FREE merchandise
z. TELL-A-FRIEND - Earn $25, $50, $100
TELL-A-FRIEND about THE BARGAIN OUTLET WHOLESALE and receive $25 FREE merchandise. SEE Full Description for details.

CALL
Each
10 items found: Page [ 1 ]
This is a SECURE web site.
**Take advantage of the SPECIAL $25.00 OFF of your $200 ORDER of select items. This SPECIAL WILL end without notice.
Orders processed within 24-48 business hours (Pay Pal orders may require an extra business day).
*As an added security for your information, we DO NOT ask for the CVV number (last 3 - 4 digits on the back of your credit card) online. In order to expedite your order faster, please telephone 217-822-6230 with the required information (9 A.M. - 4 P.M. CST)
Warehouse Visits: 24 Hour "Advance Order" online or by telephone required (you may add to order upon arrival). Warehouse visits by appointment only.
We NO longer accept orders by e-mail from unestablished clients.
Like us on Facebook https://www.facebook.com/jaxfollies. Informational site: festival and special events, tips for your business, product info, pending legislation, SPECIAL DISCOUNTS for Jax Follies Friends and more.
Festival, Parades, Flea Market Info.: https://sites.google.com/site/jaxfolliesfriends
Click here for our newsletter and special offers.