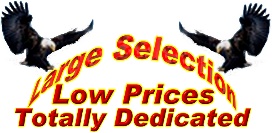 THE BARGAIN OUTLET WHOLESALE
Mail 608 S. 2nd Street
Marshall, Illinois 62441 United States
Phone: 217-822-6230
E-Mail: bargainoutletwholesale@gmail.com

---
Minimum Order: $100.00
70 items found: Page [ 1 ] [2] [3] <Next Page>
(*) in price column means Quantity Discounts Available!
Click on item name to see full details and picture if available.

Item #
Description
Price
Unit
inbaspo
"POW" Bat Inflate - 20"
Assorted colors.

*7.80
Dozen
826475aa
3 Piece Pull Back Aircraft
Carded.

*1.20
Each (Minimum 12 pieces)
vedica5
5 Piece Die Cast Car Set
Variety of colors & designs.

*1.80
Each - Minimum 3 Sets
capadunr
9" Unicorn Paddle Ball
Great prize for games, school carnivals, treasure chests, & more. Ball is on an elastic attached to a wooden paddle which when struck propels outward.

*6.00
Dozen
85/2208f
Acrylic Ring Assortment (Less than .10 1/2 each)
Assorted colors and patterns.

*5.66
Unit (4 dozen per unit)
aliennk
Alien & Stone Pendant on Black Cord Necklace Assortment $0.41
Alien pendant on chord necklace and stone on chord necklace.

*7.20
per dozen
flcus12
American Flag - 12" X 18" **SPECIAL $0.415
12" X 18" US Polyester Flag on a 23-inch wooden stick (25" to the end of the gold spear tip). SHOW YOUR PATRIOTISM!!!!

*9.00
Dozen
13605770f
Best Friends Glitter Jelly Bracelet
Assorted colors.

*1.26
Dozen (minimum 3 dozen)
13658130
BFF Rubber Rings
"Best Friends Forever".

*1.35
Unit (2 dozen) *Minimum 3 units
bombbagn
Bomb Bags $0.09167
Exploding Bag. Great flea market or checkout impulse item!

*1.75
Per Doz
nvhaircolor
Bright Color Hair Spray *SPECIAL $1.20
Assorted BRIGHT Colored Hair Spray is great for parties, dances, & more.

*1.40
Ea (Min 12 Pcs)
3l241033fx
Diamond Cut Rings
Assorted colors Diamond Cut Rings. .0375 Each. Great perceived value when displayed in a black ring display!

1.80
Unit (4 Dozen) *MINIMUM 3 Units
jkdisin
Disappearing (Magic) Ink SPECIAL $3.00
3.5 oz. When squirted it appears dark blue. After a few minutes, it turns clear (disappears).

0.312
Each (Minimum 20 Pcs..)
jrmoodor
Dolphin Mood Ring *0.94
The stone in the Dolphin Mood Ring changes color as to your mood.

*14.59
Dozen (minimum 2 dozen)
33019
Double Cookie Angels On Cloud $1.02
Approximately 2 7/8" L. Resin.

4.09
Unit (4 Pieces)
a.ep
Easter Pencils
Easter Foil & Standard Pencils. As LOW as $1.25 / dozen (in Quantity).****See "Full Description" for details.

*1.50
Dozen (Minimum 2 dozen per selection)
fbboapk
Feather Boa - 6' Pink *SPECIAL $2.75
Pink Feather Boa is 60g. Great for parties, dances, street festivals, Halloween & more.

*4.75
Each Cr. Cd processing fee on 48 pcs.
ngitdufopatcolgid
Fidget Spinner Ninja G.I.T.D - UFO - Pattern Assortment $1.00
Get an assortment of quality fidget spinners with less investment. ***SPECIAL - PRICES SLASHED! LOWER PRICES!***AS LOW AS $1.00!***

*2.73
Ea. Min. 12 Pcs.
00663ac
Fidget Spinners - GLOW IN THE DARK $1.25
Relieve stress, anxiety, boredom and more. Assorted colors.

*3.24
Each (Minimum 3 pieces)
1591pnv
Fidget Spinners - Pattern Series * $1.25
Assorted colors & printed pattern. Help relieve boredom, stress, anxiety, nervousness, & more.

*3.44
Each - Minimum 3 Pcs.
7990ac
Fidget Spinners - Solid Color $1.00
Spin'em, Twirl'em. Relieve stress with fidget spinners.

*2.52
Each (Minimum 12 Pcs.)
n1591ufo/nv
Fidget Spinners - UFO $1.00
Relieve tension, stress, anxiety & more. Quality Spinners.

*2.57
Ea. Min. 12 Pcs *
nv1159n
Flashing Pacifier Necklace
Pacifier flashes different colors. Batteries included.

*15.00
Dozen (Minimum 2 Dozen in lots of 2 dz. )
fe.hz-6/1259
Fluffy White Embossed Bean Bag Dog WIth "Hug Me" Pillow
LIMITED SPECIAL $2.25 EACH. Embossed Dog With Hug Me Heart Pillow.

*3.00
Each (Minimum 3 Pieces)
bb016812aa
Flying Knights Helicopter Assortment
Three assorted colors.

*1.20
Each (minimum 12 pieces)
70 items found: Page [ 1 ] [2] [3] <Next Page>
This is a SECURE web site.
*Please remember that the lower amount of your order, the higher the freight ratio is. We have NO control over the amount charged by USPS or UPS on your freight. We're stuck with the high freight charges too, on incoming freight.
Orders are processed within 48 business hours (Pay Pal orders may require an extra business day).
*As an added security for your information, we DO NOT ask for the CVV number (last 3 -4 digits on the back of your credit card) online. In order to expedite your order faster, please telephone 217-822-6230 with the required information (9 A.M. - 4 P.M. CST)
Warehouse Visits: 24 Hour "Advance Order" online or by telephone required (you may add to order upon arrival). Warehouse visits by appointment only.
We NO longer accept orders by e-mail from unestablished clients.
TELEPHONE ORDERS: All telephone orders MUST BE backed up by a written order by email. NO EXCEPTIONS.
Like us on Facebook https://www.facebook.com/jaxfollies. Informational site: festival and special events, tips for your business, product info, pending legislation, SPECIAL DISCOUNTS for Jax Follies Friends and more.
Festival, Parades, Flea Market Info.: https://sites.google.com/site/jaxfolliesfriends