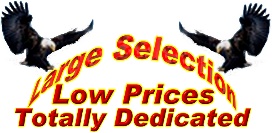 THE BARGAIN OUTLET WHOLESALE
Mail 608 S. 2nd Street
Marshall, Illinois 62441 United States
Phone: 217-822-6230
E-Mail: bargainoutletwholesale@gmail.com

---
Minimum Order: $100.00
9 items found: Page [ 1 ]
(*) in price column means Quantity Discounts Available!
Click on item name to see full details and picture if available.

Item #
Description
Price
Unit
evrsp.gdn77
Frogs On Tire & Solar Light
Garden resin Frogs On Tire With Solar Light figurine.

* 14.65
Each
vipspecial
JAX FOLLIES SPECIAL - FREE Merchandise GIFT
Gift taken from inventory for our Jax Follies Facebook friends to show that we value your friendship.

CALL
Ea.
lp100bp.ni
Laser Pointer Bullet Pen Flash Light Key Chain * 4 FREE
It's a pen! It's a laser! It's a flash light! It's a key chain! ***4 FREE Bullet Laser Pointers with each 2 dozen purchased.***

* 15.50
Dozen (Minimum 2 dozen) 3 FREE W/Ea. Dozen
elrailari
Railroad Crossing Light $10.80
9" Sturdy metal electric light flashes green and red lights.

* 13.80
Each
Y24233
Red Toile Rooster Candle Lamp
4.75" D. Red Toile Candle Lamp with Rooster motif. Very Cute.

3.20
Each (Minimum 2 pcs.)
catreq
Z. CATALOG REQUEST
We'll be happy to send you an updated novelty catalog or gift catalog with pictures & prices.

CALL
Ea.
freefreightspec200
z. Freight = FREE Merchandise
Freight SPECIAL...FREE merchandise taken from inventory equal to the UPS ground freight charge on your order(1st price of item). Example: If your ground freight is $15.00, you will receive $15.00 of FREE merchandise. ******See full description for details.

CALL
$200 Online-Qty & Sale Prices Excluded
orderinfo
z. ORDERING INFORMATION
How To Order, Processing, Payment, Shipping, Warehouse Information, and More.

CALL
Per Order
TAF=FREE merchandise
z. TELL-A-FRIEND - Earn $25, $50, $100
TELL-A-FRIEND about THE BARGAIN OUTLET WHOLESALE and receive $25 FREE merchandise. SEE Full Description for details.

CALL
Each
9 items found: Page [ 1 ]
This is a SECURE web site.
Orders processed within 24-48 business hours (Pay Pal orders may require an extra business day).
*As an added security for your information, we DO NOT ask for the CVV number (last 3 - 4 digits on the back of your credit card) online. In order to expedite your order faster, please telephone 217-826-6230 or 217-822-6230 with the required information (9 A.M. - 5 P.M. CST)
Warehouse Visits: 24 Hour "Advance Order" online or by telephone required (you may add to order upon arrival). Warehouse visits by appointment only.
We NO longer accept orders by e-mail from unestablished clients.
Like us on Facebook https://www.facebook.com/jaxfollies. Informational site: festival and special events, tips for your business, product info, pending legislation, SPECIAL DISCOUNTS for Jax Follies Friends and more.
Festival, Parades, Flea Market Info.: https://sites.google.com/site/jaxfolliesfriends
Click here for our newsletter and special offers.