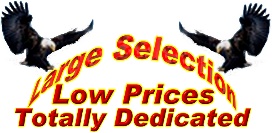 THE BARGAIN OUTLET WHOLESALE
Mail 608 S. 2nd Street
Marshall, Illinois 62441 United States
Phone: 217-822-6230
E-Mail: bargainoutletwholesale@gmail.com

---
Minimum Order: $100.00
53 items found: Page [ 1 ] [2] [3] [4] <Next Page>
(*) in price column means Quantity Discounts Available!
Click on item name to see full details and picture if available.

Item #
Description
Price
Unit
5404BB
5404 Blu Bloc Sports Sunglasses *$2.50
Blu Bloc lenses helps block UV rays. Special pricing.

* 5.20
Dz. *SPECIAL Quantity Prices =ASSORTED STYLES
5511TB
5511 TB Goggle Sunglasses - Fits Over Prescription Glasses $2.50
Amber lens. Fits over most prescription glasses. *See full description for SPECIAL PRICING.

* 14.50
Dozen ($3.95 Dz - 12 Dz.. ASSORTED STYLES )
Christmasgarland
6' Holly, Poinsettia, Icycle W/ Berries Garland Asst .*12 FREE
Poinsettia, Holly and Glistening Long Icicles With Berries Assortment (assorted color berries).

10.47
Dz. (SPECIAL 1 FREE dz with 2 dz.)
6178 CP/FM_2nd
6178 Copper Flash Mirror Driving Sunglasses - 2nds $2.00
Copper Flash Mirror Driving Sunglasses - 2nd's. SPECIAL .167 per pair. GIVE 'EM AWAY, SELL 'EM for $1.00, etc.

2.00
Per Dozen (.2 dozen limit)
amfelb
Assisted Opening Lock Blades *FREE Knife Special
3.5" - 4.5" Closed. 7.5" - 8" over-all L.

6.69
Ea. *1 Knife FREE with 5 Assorted)
710
Black Rubber Handle Folding Knife
5" Over all length.

1.36
Ea. (Minimum 4)
25rosespray
Burgundy Rose Spray - FREE ROSE SPRAY
25" Burgundy Rose Spray. SPECIAL..1 FREE ROSE SPRAY with the purchase of 4 floral sprays.

* 3.50
each *FREE Rose Spray w/ purchase of 4
7503CM/JR
Children's Goggle
Color mirror lense. Assorted color marbled frames.

* 16.60
Dz. *QTY Prices LIMITED to ASSORTED Styles
8401SD
Children's Oval With Sunglass String *$2.50
Children's super dark lenses; frames - assorted colors. **SEE Sunglasses SPECIAL PRICING.**

* 10.40
Dozen (Special 6 Dz. $5 Dz. Assorted styles)
chrteaset
Christmas Tea Set *1 FREE Set
Christmas 10 Pc. Tea Set.

* 3.60
Per Set *SPECIAL 1 FREE Set W/ 4 Sets
4109 CM
Clip Ons - Color Mirror $2.50
Color Mirror Clip On Sunglasses. Clips on over prescription glasses. **SEE SPECIAL

* 13.15
Dozen **Special (6 Dz+ - $5 / $3.95 Dz ASSORTED St
Y27226 - Y27227
Country Bread Board Plaques Get 1 FREE
Assortment "Welcome" and "Faith Family, Friends" Bread Boards.

* 5.50
Each (Min. 2 Pcs) Buy 4 Get 1 FREE
7179 CT
CT Wire Sunglasses *Special $2.50
Color Tint Sunglasses

* 18.61
Dz. *QTY Prices LIMITED to ASSORTED Styles
ljw0126
Dirty Face Soap - New LOWER PRICE $5.15
Looks like a normal bar of soap, but look-out...! SEE SPECIAL PRICING in Full Description.

* 5.80
Dozen
nv1714
Extendable - Foldable Selfie Stick *Special $4.99
Extendable Folding Selfie Stick fits most smartphones & digital cameras. Taking self portraits & videos has never been easier. Perfect for traveling, video diaries, weddings, parties, concerts, sporting events, and more. No more asking others to take your picture. Assorted colors. As low as $4.99

* 6.42
Each (Minimum 3 pcs.)
53 items found: Page [ 1 ] [2] [3] [4] <Next Page>
This is a SECURE web site.
Orders processed within 24-48 business hours (Pay Pal orders may require an extra business day).
*As an added security for your information, we DO NOT ask for the CVV number (last 3 - 4 digits on the back of your credit card) online. In order to expedite your order faster, please telephone 217-826-6230 or 217-822-6230 with the required information (9 A.M. - 5 P.M. CST)
Warehouse Visits: 24 Hour "Advance Order" online or by telephone required (you may add to order upon arrival). Warehouse visits by appointment only.
We NO longer accept orders by e-mail from unestablished clients.
Like us on Facebook https://www.facebook.com/jaxfollies. Informational site: festival and special events, tips for your business, product info, pending legislation, SPECIAL DISCOUNTS for Jax Follies Friends and more.
Festival, Parades, Flea Market Info.: https://sites.google.com/site/jaxfolliesfriends
Click here for our newsletter and special offers.