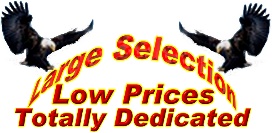 THE BARGAIN OUTLET WHOLESALE
Mail 608 S. 2nd Street
Marshall, Illinois 62441 United States
Phone: 217-822-6230
E-Mail: bargainoutletwholesale@gmail.com

---
Minimum Order: $100.00
120 items found: <Previous Page> Page [1] [2] [3] [ 4 ] [5] [6] [7] [8] <Next Page>
(*) in price column means Quantity Discounts Available!
Click on item name to see full details and picture if available.

Item #
Description
Price
Unit
inguize-inguigr42
Groovy Guitar & Zebra Print Guitar Inflate Assort. - 42" *2 FREE
Assorted 42" guitar inflates.

* 12.00
Dz. *2 FREE W/ Ea. Dz.
grungeasst
Grunge Ring Assortment
Assorted Styles/bag (25 per unit). $0.57 Each. Includes mood rings, eye rings, yin yang rings, & more.

* 14.27
Per Unit (25 per bag)
SYI.5114-5
Guest Book
Guest Book White w/ Gold Print on cover (this book could be used for open house, grand openings, anniversaries or weddings).

* 3.00
each
inguigr42
Guitar - 42" Groovy Guitar Inflate *2 FREE
Very colorful.

* 10.80
Dozen (2 Pcs. FREE W / Ea. Dz)
fbgyp
Gypsophilia Spray
White and assorted color assortment. Great filler flower for your floral arrangements.

10.15
Dozen (Min. 2 dozen)
halloweentblcvr
Halloween Plastic Table Cover $1.50
Halloween Pumpkins Plastic Table Cover.

* 1.80
Each (Minimum 6 pieces)
ag 204-1/ag206-1
Heavenly Angel Michael with Doves
Heavenly Angel "Michael" with Dove. 2" H.

* 2.51
Each (MINIMUM 3 Pieces)
tmp.2913c-grn
Heavy Duty Table Skirt - Green +*FREE Merchandise
29" X 13'. Fits 8' banquet tables.

* 3.94
Each (Minimum 3 pcs) + Free Merchandise 3-23 Pcs.
LSI_B
Icicles Swag With Berries Assortment - SPECIAL 50% OFF
6' Long Icicles Swag With Berries Assortment. Branches have silver, red and gold berries. Accent with bells, bulbs, or ribbon for mantles, railings, wreaths, sprays & more! SPECIAL 50% OFF. See full description.

* 10.15
Per Dz. Min. 2 Dz. (SPECIAL 50% OFF 6 DZ - Sing
a.61831y
Ivory Look 3" Folding Knife **Free Knife
3" Pocket Knife with ivory look handle. *SEE FREE Knife SPECIAL.

4.87
Each (Minimum 3 Pcs.) FREE knife with 5 knives
Asstlockblades
K_4.5" Folding Knife With Assisted Opening **FREE Knife
440 Stainless Steel Blade.

6.69
Each **1 FREE w/ purchase of 5 ASST
amfelb
K_Assisted Opening Lock Blades *FREE Knife Special
3.5" - 4.5" Closed. 7.5" - 8" over-all L.

6.69
Ea. *1 Knife FREE with 5 Assorted)
bkrk
Key Ring Knife
3 3/4" Over-all L.

1.36
Each (Minimum 3 pieces)
ty19099ac
KG-9 Cap Gun **2 FREE
Shoots Plastic Round Caps. As low as $1.29 each.

* 17.22
Dozen (2 FREE Guns W / Ea. Dz)
kiddieanrgs
Kiddie Animal Ring Assortment **Special Pricing***
6 Dozen assorted animal rings per display box.

* 4.30
Per display **(SEE SPECIAL)
120 items found: <Previous Page> Page [1] [2] [3] [ 4 ] [5] [6] [7] [8] <Next Page>
This is a SECURE web site.
Orders processed within 24-48 business hours (Pay Pal orders may require an extra business day).
*As an added security for your information, we DO NOT ask for the CVV number (last 3 - 4 digits on the back of your credit card) online. In order to expedite your order faster, please telephone 217-822-6230 with the required information (9 A.M. - 5 P.M. CST)
Warehouse Visits: 24 Hour "Advance Order" online or by telephone required (you may add to order upon arrival). Warehouse visits by appointment only.
We NO longer accept orders by e-mail from unestablished clients.
Like us on Facebook https://www.facebook.com/jaxfollies. Informational site: festival and special events, tips for your business, product info, pending legislation, SPECIAL DISCOUNTS for Jax Follies Friends and more.
Festival, Parades, Flea Market Info.: https://sites.google.com/site/jaxfolliesfriends