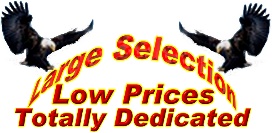 THE BARGAIN OUTLET WHOLESALE
Mail 608 S. 2nd Street
Marshall, Illinois 62441 United States
Phone: 217-822-6230
E-Mail: bargainoutletwholesale@gmail.com

---
Minimum Order: $100.00
21 items found: Page [ 1 ] [2] <Next Page>
(*) in price column means Quantity Discounts Available!
Click on item name to see full details and picture if available.

Item #
Description
Price
Unit
jwsethe.fe
15" Heart Necklace & 7.5" Bracelet Set
Assorted colors.

11.76
Dozen
tm1886L
5 Oz. Punch Ladle
5 oz. Clear "Contessa" Pattern Punch Ladle.

0.99
Each (Minimum 3 pieces)
ha-boarb
6' FEATHER BOAS 60gr - Rainbow
Great for dances, carnivals, New Year's party's, Halloween, dress up, and more.

* 4.10
Each (minimum 3 pieces per color))
13605770f
Best Friends Glitter Jelly Bracelet
Assorted colors.

* 1.26
Dozen (minimum 3 dozen)
25rosespray
Burgundy Rose Spray - SPECIAL Price $2.33
25" Burgundy Rose Spray. SPECIAL.. SEE FULL DESCRIPTION. As Low As $2.33 each.

* 3.50
each
3l241033fx
Diamond Cut Rings
Assorted colors. .033 Each. Great perceived value!

1.55
Unit (4 Dozen) *MINIMUM 3 Units
33019
Double Cookie Angels On Cloud $1.02
Approximately 2 7/8" L. Resin.

4.09
Unit (4 Pieces)
fboap
Feather Boa - Pink
6' - 60 g. Great for dances, parties, play dates, Valentine's Day, & more.

* 4.10
Each Minimum 3 pcs.
fe.hz-6/1259
Fluffy White Embossed Bean Bag Dog WIth "Hug Me" Pillow
8" L. Fluffy white dog with 2.25" red heart "HUG ME" pillow. LIMITED SPECIAL $2.25 EACH (Minimum 24 pcs.)

* 3.00
Each (Minimum 3 Pieces)
ag 204-1/ag206-1
Heavenly Angel Michael with Doves
Heavenly Angel "Michael" with Dove. 2" H.

* 2.51
Each (MINIMUM 3 Pieces)
Y14776
Kissing Cows - $4.51
6.75"H Resin. Save 20%..See full description

* 6.02
Each (Minimum 2 Pieces)
nv1182
Mood Ring Band
Express your mood by your ring. Changes color as your moods (emotions) change.

* 7.42
Per Dozen (Minimum 3 Dz.)
nv1182mq
Ocean Mystique Mood Ring Deluxe
Very sophisticated looking mood ring bands.

* 12.15
Dozen ( Minimum 3 dozen)
cotiahe
Princess Tiara With Heart Stone
A must have for all the little princesses.

8.50
Dozen
r/gth
Red Glitter Top Hats
Red Glitter Top Hat is great for themed parties, decorations & more. Very elegant.

1.50
Each (Minimum 4 pcs.)
21 items found: Page [ 1 ] [2] <Next Page>
This is a SECURE web site.
Orders processed within 24-48 business hours (Pay Pal orders may require an extra business day).
*As an added security for your information, we DO NOT ask for the CVV number (last 3 - 4 digits on the back of your credit card) online. In order to expedite your order faster, please telephone 217-822-6230 with the required information (9 A.M. - 5 P.M. CST)
Warehouse Visits: 24 Hour "Advance Order" online or by telephone required (you may add to order upon arrival). Warehouse visits by appointment only.
We NO longer accept orders by e-mail from unestablished clients.
Like us on Facebook https://www.facebook.com/jaxfollies. Informational site: festival and special events, tips for your business, product info, pending legislation, SPECIAL DISCOUNTS for Jax Follies Friends and more.
Festival, Parades, Flea Market Info.: https://sites.google.com/site/jaxfolliesfriends