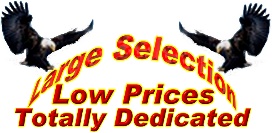 THE BARGAIN OUTLET WHOLESALE
Mail 608 S. 2nd Street
Marshall, Illinois 62441 United States
Phone: 217-822-6230
E-Mail: bargainoutletwholesale@gmail.com

---
Minimum Order: $100.00
19 items found: <Previous Page> Page [1] [ 2 ]
(*) in price column means Quantity Discounts Available!
Click on item name to see full details and picture if available.

Item #
Description
Price
Unit
luswasst-24
Light Up Sword Assortment $1.70
Get a variety of light up swords with minimal investment.

1.70
Each (Minimum 72 pieces)
brdpiano
Musical Bird Piano With Microphone
Battery Operated Piano With Microphone, lights, violin, guitar, trumpet & organ sounds.

14.39
Each
gft jewel misc
Sample Pack - Light Up Assortment
Assorted Light Up items. Sample Packs provide a LARGE variety of merchandise with MINIMAL investment.

50.00
Each (Will get Assortment as close to price as we
TAF=FREE merchandise
z. TELL-A-FRIEND - Earn $25, $50, $100
TELL-A-FRIEND about THE BARGAIN OUTLET WHOLESALE and receive $25 FREE merchandise. SEE Full Description for details.

CALL
Each
19 items found: <Previous Page> Page [1] [ 2 ]
This is a SECURE web site.
Orders processed within 24-48 business hours (Pay Pal orders may require an extra business day).
*As an added security for your information, we DO NOT ask for the CVV number (last 3 - 4 digits on the back of your credit card) online. In order to expedite your order faster, please telephone 217-826-6230 or 217-822-6230 with the required information (9 A.M. - 5 P.M. CST)
Warehouse Visits: 24 Hour "Advance Order" online or by telephone required (you may add to order upon arrival). Warehouse visits by appointment only.
We NO longer accept orders by e-mail from unestablished clients.
Like us on Facebook https://www.facebook.com/jaxfollies. Informational site: festival and special events, tips for your business, product info, pending legislation, SPECIAL DISCOUNTS for Jax Follies Friends and more.
Festival, Parades, Flea Market Info.: https://sites.google.com/site/jaxfolliesfriends
Click here for our newsletter and special offers.