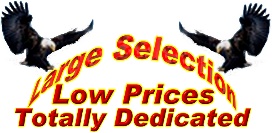 THE BARGAIN OUTLET WHOLESALE
Mail 608 S. 2nd Street
Marshall, Illinois 62441 United States
Phone: 217-826-6230
E-Mail: bargainoutletwholesale@gmail.com

---
Minimum Order: $100.00
13 items found: Page [ 1 ]
(*) in price column means Quantity Discounts Available!
Click on item name to see full details and picture if available.

Item #
Description
Price
Unit
om.10103
10.5" Old Mountain Cast Iron Skillet
Quality pre-seasoned.

12.12
Each
f.30105-1040
Acrylic Ice
Acrylic Ice. 3/8" - 1".

* 4.49
Ea Minimum 3 Bgs. 8 Bag price = ast colors only
Y27226 - Y27227
Country Bread Board Plaques *$4.12 *FREE Freight
Country Bread Board Plaques Assortment "Welcome" and "Faith Family, Friends". SPECIAL - SAVE 25% ...See full description for details.

* 5.50
Each (Min. 2 Pcs) $4.12 PRICE LIMITED to Assort. /
wgs.ch1369/12
Cute Double Piggy Cookie Jar $22.52
12.5"L X 9.3"H Cute Double Piggy Cookie Jar.

* 28.32
Each
knspfk
Knives, Spoons, Forks Assortment
Knives, Spoons, Forks Assortment. 3 Pieces per package. Assortment includes knives, spoons and forks.

0.71
Per Package (Minimum 6 Packages)
peghooks
Peg Hooks 6" - 10" As low as .14
Standard. Fits 1/8" & 1/4" pegboard.

0.21
Each (Minimum 12 Pieces)
plgalstri
Pillow: Galaxy Star Pillow $6.90
Multi-color galaxy prints. **See SPECIAL PRICING.

* 9.00
Each
apprwolri
Pillow: Printed Wolf Pillow $5.75
13" Cute Pillow.

* 6.00
Each
103113123aa
Plastic 3 Piece Storage Containers With Snap On Lids
3 Size Storage Containers with 3 lids.

* 3.59
Set (Minimum 3 Sets)
fe.plstnd
Plate Stand
Small Plastic Plate Stand.

* 4.25
Per Dozen
freefreightspec200
z. FREE MERCHANDISE Equal to Your Freight
FREE MERCHANDISE taken from inventory equal to the UPS freight charge on your order. ******See full description for details.

CALL
$200 Online 1st Priced Items
orderinfo
z. ORDERING INFORMATION
How To Order, Processing, Payment, Shipping, Warehouse Information, and More.

CALL
Per Order
TAF=FREE merchandise
z. TELL-A-FRIEND - Earn $25, $50, $100
TELL-A-FRIEND about THE BARGAIN OUTLET WHOLESALE and receive $25 FREE merchandise. SEE Full Description for details.

CALL
Each
13 items found: Page [ 1 ]
This is a SECURE web site.
Orders processed within 24-48 business hours (Pay Pal orders may require an extra business day).
Warehouse Visits: 24 Hour "Advance Order" online or by telephone required (you may add to order upon arrival). Warehouse visits by appointment only.
We NO longer accept orders by e-mail from unestablished clients.
Like us on Facebook https://www.facebook.com/jaxfollies. Informational site: festival and special events, tips for your business, product info, pending legislation, SPECIAL DISCOUNTS for Jax Follies Friends and more.
Festival, Parades, Flea Market Info.: https://sites.google.com/site/jaxfolliesfriends