INDEPENDENT RETAILER magazine is now the official news outlet for Wholesale Central visitors. Each monthly issue is packed with new product ideas, supplier profiles, retailing news, and business strategies to help you succeed.

See new articles daily online at IndependentRetailer.com.
HOT PLATES COMPANY offers retailers the opportunity to build sales by providing custom vanity plates for clients' cars and other vehicles. It sells all of the component pieces for making and assembling plates and frames, and it offers them singly or in kits.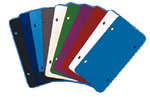 The components include blank plates, frames, letters and fasteners, along with a variety of related merchandise. There are licensed auto emblems for all the major car brands in mirror acrylic with adhesive backing. Frame designs number in the hundreds and include Jesus Fish, flags of all nations, the American Eagle, twin palms and a long line of other themes.
To help retailers get into the vanity plate business, the company provides a range of starter kits. One wholesales for $139.95 and contains all of the components to create and assemble 30 vanity plates. The retail potential from this kit is approximately $450.
Another larger kit wholesales for $279.95. It includes all the materials necessary for creating 65 vanity plates at a suggested total retail of nearly $1,000.
All the kits contain not only complete instructions, but also ideas for types and styles of lettering and themes. The company also has a variety of displays to draw attention to this popular customizing capability.
Within the company's complete line are: NASCAR and National Football League licensed plates and frames, a broad range of auto emblems, bicycle plates, custom trailer hitch covers, license plate shields and monogram kits.
For more information, contact:
Hot Plates Company
543 Concord Street
Holliston, MA 01746
Toll free: 888-810-8247
Tel.: 508-429-1445
Fax: 508-429-1458
Website: www.hotplatesco.com
Entire contents ©2021, Sumner Communications, Inc. (203) 748-2050. All rights reserved. No part of this service may be reproduced in any form without the express written permission of Sumner Communications, Inc. except that an individual may download and/or forward articles via e-mail to a reasonable number of recipients for personal, non-commercial purposes.