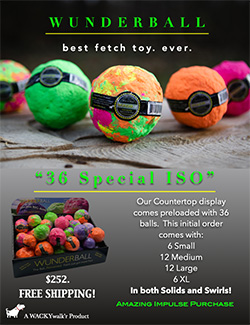 WACKYwalk'r
2880 Bergey Road- Suite P
Hatfield, Pennsylvania 19440 United States
Toll-Free: 844-GO-WACKY
Phone: 215-716-3049
E-Mail: info@wackywalkr.com

---
Best Fetch Toy. Ever.
Cleans Teeth. Lasts Longer.

Countertop Display - Special Offer $199 & FREE SHIPPING ! Regular Price $252

(*) in price column means Quantity Discounts Available!
Click on item name to see full details and picture if available.

Item #
Description
Price
Unit
WBDISCDU
WUNDERball - Exceptional Dog Toy - Countertop Display
Countertop display comes preloaded with 36 balls. Perfect dog toy for pet supply stores, dog groomers, dog grooming facilities, veterinary clinics, dog parks, dog walkers, dog obedience training, dog tricks & rewards, novelty stores and gift shops. Great impulse purchase for pet store customers.

199.00
Display with 36 Balls.