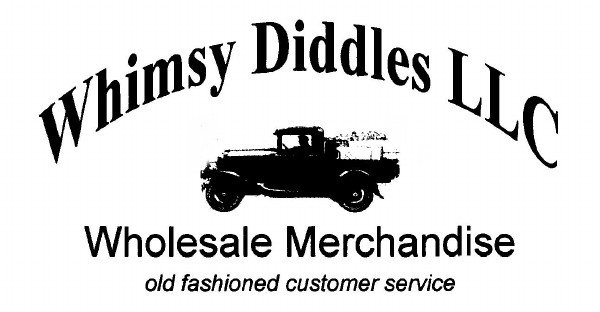 Whimsy Diddles LLC

CHESILHURST, NJ 08089
Phone: 609-870-8579
E-Mail: Liz@whimsydiddles.com

---
Minimum Order: $20.00
About Our Company
Whimsy Diddles has been an LLC since 2007, owned and operated by Pete and Liz located in the New Jersey pine barrens. We offer quality wholesale goods including but not limited to retired collectibles, crafts, craft supplies, country primitives, gift basket items, and home decorations. We deliver old fashioned customer service, stand behind our items, and you will not be disappointed. Specializing in retired collectibles, craft supplies, crafts, quality giftware, and more, we understand the needs of a small shop. We have owned a few brick and mortar stores on military bases and we cater to small businesses, ebayers, co-ops, crafters, gift basket makers, and more without the requirement of case packs. Warehoused items are shipped and pickup is not available. You deal with the owners only here. Great impulse items to scatter throughout your store or to sell online. We accept Paypal but you can use your credit card through them when your invoice arrives through email. We ship via UPS Ground or Postal Service determined by lower cost.
About Our Products
The products are very eclectic and include gift items and ornaments; crafts and unusual craft supplies; holiday and seasonal, wine items, signs, primitives and more.
Return Policy
Notify us of damages within 7 days of the receipt of your items. Each case is treated promptly and individually. Customer service and shipping is what we have been noted for.
Minimum Order
50.00
Terms
Orders must be placed through the online shopping cart. Checkout is user friendly. You must use paypal to place an order. Give your email address to receive your bill.
---
Return to our main website at https://www.wholesalecentral.com/whimsydiddles/