MATTER GROUP offers the Xeko series of trading card games that are designed to educate kids about animals and biodiversity. There are currently three available Xeko games: Mission: Costa Rica, Mission: Indonesia, and Mission: China. The inaugural game, Mission: Madagascar has been retired; new Missions are introduced each year.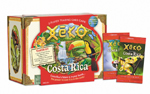 The locations are chosen for their richness of species. Each of the two player collectible card games is designed for children age eight and up. The game stimulates interest in math, science and nature by combining trading cards and animals, and also incorporates elements of chance, as well as mental challenges.
The cards within each series are also designed as trading cards patterned after Pokemon. They feature rich, realistic art, along with information on the animals depicted on the cards. There is also a companion website that shows players how to get involved in local conservation efforts. The minimum order is $100, and can include an assortment of any of the three games in the series. Cards within collections are interchangeable. Each collection has a starter set, which wholesales for $10 to $15, depending on the series. The suggested retail price for a starter set is $20 to $30.
There are also booster sets, which contain nine cards, pulled at random from a designated Mission game. The booster set cards wholesale for $2 and have a suggested retail price of $3.99. Starter sets include full game play instructions, along with educational material related to the Mission. Booster packs come in a free countertop display unit. Xeko Pals, plus animals of environmentally friendly materials, are also available.
For more information:
Matter Group
3518 Fremont Avenue North, #325
Seattle, WA 98103
Toll Free: 888-935-6386
Tel.: 206-632-2550
Fax: 206-632-3705
Website: www.xeko.com
Entire contents ©2022, Sumner Communications, Inc. (203) 748-2050. All rights reserved. No part of this service may be reproduced in any form without the express written permission of Sumner Communications, Inc. except that an individual may download and/or forward articles via e-mail to a reasonable number of recipients for personal, non-commercial purposes.