WILD CREATIONS introduces EcoAquarium, a four inch square desktop aquarium that is a self contained ecosystem and includes tiny live frogs. The clear plastic EcoAquarium includes a bottom layer of special gravel that manages the water's PH levels, nitrates that feed plants, allowing them to produce oxygen, a snail that acts as the system's janitor, and frogs that are 1.5 to two inches long and will not outgrow the aquarium.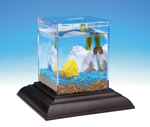 The frogs will live in this enclosed system for three to five years. There is a food pack, which supplies food through a tiny feeding hole at the top of the unit. The pack will last for one year. EcoAquarium comes with several accessory options, including a cleaning kit and a variety of bases, which provide retailers with an opportunity to raise the sales ticket.
The minimum order is a case of 20 units, and they are shipped in an insulated box that also serves as an in-store display. On the first order, the one year food pack comes free with each unit, and point of sale materials, including signage showing EcoAquarium in use, are also free. The wholesale cost of EcoAquarium for new retail accounts is $10, and the suggested retail price is $19.99. The food pack wholesales for $1.25 and has a suggested retail of $3.99. The wholesale cost for a decorative desktop base, offered in a range of colors and materials, is about $2, and suggested retail is $3.99.
For more information:
Wild Creations
1560 Pine Island Road, Unit F
Myrtle Beach, SC 29577
Tel.: 843-448-8880
Fax: 843-448-8988
Website: www.wildcreations.com
Entire contents ©2022, Sumner Communications, Inc. (203) 748-2050. All rights reserved. No part of this service may be reproduced in any form without the express written permission of Sumner Communications, Inc. except that an individual may download and/or forward articles via e-mail to a reasonable number of recipients for personal, non-commercial purposes.