A SHY DREAM introduces a family of six dolls, each patterned after an actual child's drawing. The dolls are made of organic cotton and range in size from about 10 to eight inches.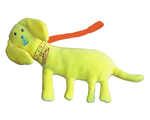 They include a father, Mr. GreeNee, who is green; mother, Mrs. GreeNee, in pink; a daughter, Val for Valentine, who has a Valentine shape and is red; a son, Henry, or Switch, in orange; a dog, Dakota, in yellow, and Gap, a cat, which was being added at press time. The dolls and their colors represent eco friendly themes, with Mr. GreeNee representing global warming; Mrs. GreeNee denoting everything organic; Val is an animal lover; Henry represents solar power; Dakota is a recycler, and Gap represents water conservation.
Mr. GreeNee, drawn by the four year old daughter of the company's founders, first appeared in a book, published by the child. He and all members of the family contain pillow stuffing, and have the whimsical expressions of a child's drawing. They are sold in packs of six, which can include one each of the whole family or any combination of family members. They can also be sold as a family set or sold singly. The wholesale cost is $10 per unit, or $60 for the family set. The suggested retail price is $20, which translates to $120 for a set containing the full family.
For more information:
A Shy Dream
1227 and 1/2 North Sweetzer Avenue
West Hollywood, CA 90069
Tel.: 323-440-0155
Fax: 323-654-9922
Website: www.thegreenees.com
Entire contents ©2022, Sumner Communications, Inc. (203) 748-2050. All rights reserved. No part of this service may be reproduced in any form without the express written permission of Sumner Communications, Inc. except that an individual may download and/or forward articles via e-mail to a reasonable number of recipients for personal, non-commercial purposes.