PONY PAL SWINGS supplies the Pony Pal Tire Swing, which is based on its copyrighted design of a swing made from bias tires and fashioned into the shape of a pony. Bias auto tires do not have steel, so the swings cannot cause harm.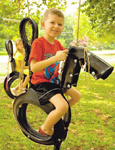 In addition, they have a recessed seat that not only makes the swing more comfortable, but also secures a child in place to prevent falls and aid safety. It allows a child to bounce and play rough without fear. The entire swing is made of tire, and the company follows a pattern to form the horse shape. The body is black, and the mane and tail are made of different colors of rope.
In all, the swing measures about 2.5 feet from tail to mane. It comes with two ropes and a PVC bar that prevents the swing from collapsing on the riding child, and ropes that are easily attached to a tree branch or swing set. The swing comes with full instructions and everything that is needed to hang it properly and easily. It holds a working load (that is an active load, in use) of 175 lbs. It is designed for children aged three to 11.
The minimum order is two boxes of three units each. In that quantity, the wholesale price is $46.50. On orders of 100 units or more, the wholesale cost drops to $42.50. Suggested retail is $69.95 to $79.95.
For more information:
Pony Pal Swings
3411 East Highway 31
Hubbard, TX 76648
Toll Free: 877-242-0154
Tel.: 254-576-1599
Fax: 254-576-1601
Website: www.ponypalswings.com
Entire contents ©2022, Sumner Communications, Inc. (203) 748-2050. All rights reserved. No part of this service may be reproduced in any form without the express written permission of Sumner Communications, Inc. except that an individual may download and/or forward articles via e-mail to a reasonable number of recipients for personal, non-commercial purposes.