APPLEHEAD FACTORY has created a family of Teddy Scares. They are plush animals representing Teddy Bears that have been discarded, and they return from the junkyard to haunt those who threw them away.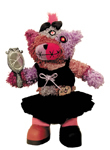 The family now includes 10 different characters, described as, "agorable," who come dressed in tatters and bearing the scars of their abandonment. Within the family, for example, is Edwin Morose, who represents a sad poet with a visibly broken heart; Mazey Podge, who is an amalgam, or hodge podge, of many different plush animals, that sports a third eyeball and a dog's tail; and Redmond Gore, who has a burlap sack on his head and carries a bloody axe. He is often described as the Friday the 13th bear, because he reminds people of the famous horror movie.
The Teddy Scares come in three sizes: 10, eight and six inches tall. The latter are called Morgue Minis. The larger units are packaged in individual boxes that tell the full Teddy Scares story and also carry the story of the particular unit in the box. The Morgue Minis come in a body bag and come with a coroner's report, telling how this character died.
The opening minimum order for 12 inch Teddy Scares is two cases containing six units each. The wholesale price ranges from $14 to $15, depending on design, and the suggested retail is from $26.99 to $29.99. The eight inch tall units wholesale for $6 and have a suggested retail price of $12.99. Morgue Minis are sold in a minimum of three cases, each containing 12 units. The wholesale cost is $4.14, and suggested retail is $9.99.
For more information:
Applehead Factory
P.O. Box 137
Morton, PA 19070
Tel.: 267-879-1234
Website: www.teddyscares.com
Entire contents ©2022, Sumner Communications, Inc. (203) 748-2050. All rights reserved. No part of this service may be reproduced in any form without the express written permission of Sumner Communications, Inc. except that an individual may download and/or forward articles via e-mail to a reasonable number of recipients for personal, non-commercial purposes.