SHAINSWARE introduces Shains, a collection of fashion accessories that are made of (and packaged in) recycled and recyclable scrap material. Although they are eco friendly, "green," they consist of very colorful bracelets, pins, necklaces and more, personalized with equally colorful elements. The elements carry individual interchangeable numbers, letters, and icons that snap into the accessories, enabling consumers to tailor the accessories and make them individual and personal. In addition to bracelets, pins and necklaces, there are hair bands, key chains, pony tail holders and even pet collars.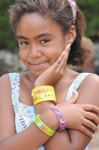 Shains are sold in a variety of configurations. The most popular are Kits for Starters. One contains a bracelet and a set of 30 elements. It wholesales for $4.50 and has a suggested retail of $9 to $14. A cuff with 30 elements wholesales for $5. Starter packs with bracelets or cuffs with 60 elements wholesale for $6 and $6.50. In all cases, Shains' suggested retail prices are at least double wholesale.
There are also theme kits called, "Ready to Express." These combine a bracelet with a package of elements within a single theme, such as cool, skater, girly, and world. These wholesale for $4.
Fashion accessories are also sold separately. The key chain, offered in choice of heart, circle or flower shape, wholesales for $2.75 and retails for $5.50 to $8. Elements are also sold separately in bags of 30, 60 and 100 elements, in assorted colors. The smallest pack contains the most popular letters and wholesales for $3. The largest adds messaging elements and numbers to 75 letters, and wholesales for $6. There are icon sets of four in a choice of 12 themes, such as ball sports, sweets, and serenity. These wholesale for 50 cents and are designed to provide add-on sales for kits and accessories. A portion of the company's net profits is donated to environmental organizations.
A displayer containing an assortment of 132 Shains, including a selection of accessories and elements, wholesales for $331.80. A larger carded prepack assortment of 162 pieces wholesales for $446, and the wholesale offsets the cost of the display.
For more information, contact:
Shainsware
4284 Sea View Lane
Los Angeles, CA 90065
Tel.: 818-404-9131
Fax: 323-223-5962
Website: www.shainsware.com
Entire contents ©2022, Sumner Communications, Inc. (203) 748-2050. All rights reserved. No part of this service may be reproduced in any form without the express written permission of Sumner Communications, Inc. except that an individual may download and/or forward articles via e-mail to a reasonable number of recipients for personal, non-commercial purposes.