RANDOMLINE INC. has introduced Hurry Up, a fast paced dice game that also includes mental and mathematical challenges. The game box includes five black and one blue dice, a 30 second timer, six challenge cards, a second chance card and complete instructions. It is designed for those seeking a challenge, and can be played quickly. Players need to be fast with the dice, act swiftly and be able to add numbers in their head quickly. The first challenge may appear simple, but players soon feel pressure from the 30 second clock, as well as from opponents admonitions to hurry up!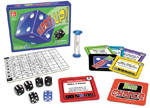 It is suggested for ages eight and up and is played with two to six players. There are six challenges to complete and each challenge has a point value. If a player completes a challenge successfully, that player gets the challenge points, plus the points of the dice for that round. If they fail, they get nothing. The second chance card is earned by any player who completes a challenge on the first roll of any challenge. The blue die provides a different purpose for each challenge.
The minimum order is a case of 12 units. The wholesale cost is $5, and the suggested retail price is $10.
For more information, contact:
RandomLine Inc.
P.O. Box 193
Morris Plains, NJ 07950
Toll Free: 888-234-3729
Tel.: 973-889-8964
Fax: 973-889-1814
Website: www.randomline.com
Entire contents ©2022, Sumner Communications, Inc. (203) 748-2050. All rights reserved. No part of this service may be reproduced in any form without the express written permission of Sumner Communications, Inc. except that an individual may download and/or forward articles via e-mail to a reasonable number of recipients for personal, non-commercial purposes.