This spring, Aliz International is celebrating beauty and the good life. Aliz knows how important it is for a woman to look and feel good everyday, and to make women look incredible, the company is premiering the Queen Collection for spring 2007.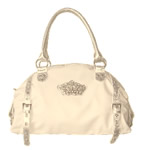 A woman's inner beauty queen is discovered with this collection, consisting of handbags and travel accessories, great for pageants or everyday wear. There are currently eighteen styles to choose from, including totes, overnighters, garment bags and much more. Each classic piece is made to attract attention, with alluring crowns in either rhinestone, print or embroidery. All styles emphasize function, while keeping a glamorous look.

Each unique piece forms the Queen Collection, and is sure to become part of everyday beauty accessories. Minimum order is $200, or a $10 handling fee is added to the order. Orders receive same day shipping, and are delivered within seven business days. Wholesale prices for the collection range from $10 to $55. The suggested retail prices are $20 to $110. Some Queen Collection styles are also carried in other fashionable prints, and in Aliz International's exclusive celebrities collections.
Aliz International
11136 Satellite Blvd.
Orlando, FL 32837
Tel: 407-438-8816
Toll Free: 888-Buy-Aliz
Fax: 407-438-0122
Website: www.alizbags.com
Entire contents ©2022, Sumner Communications, Inc. (203) 748-2050. All rights reserved. No part of this service may be reproduced in any form without the express written permission of Sumner Communications, Inc. except that an individual may download and/or forward articles via e-mail to a reasonable number of recipients for personal, non-commercial purposes.