Wholesale jewelry supplier, Zad, "sets the scene" with a line of cute metal finish earrings displayed on picture cards. Great for boutiques to department stores and everything in between, these picture card earrings are sure to stop shoppers in their tracks.
From hearts on the beach to adorable fox earrings displayed next to their animal inspiration, these earrings are a one of a kind piece perfect for any earring lover.
ZAD provides the very latest in fashion necklaces, fashion bracelets, fashion earrings, fashion rings and more. With over 2000 styles available online, you are sure to find the exact fashion jewelry you are looking for.
ZAD not only provides stylish fashion jewelry at great prices, but also offers Loyal Customer Rewards, a 90-Day Guarantee Policy, frequent special offers and a Sales force equipped and ready to help you with your fashion jewelry needs.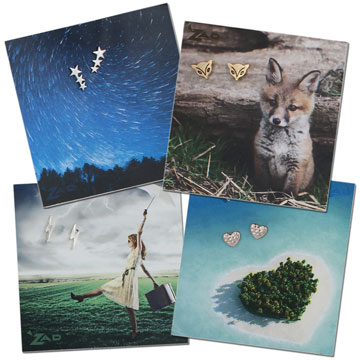 Supplier Contact Info:
Zad
6860A Cortona Dr.
Santa Barbara, CA 93117
800-477-2216
www.zadwholesalejewelry.com


Entire contents ©2020, Sumner Communications, Inc. (203) 748-2050. All rights reserved. No part of this service may be reproduced in any form without the express written permission of Sumner Communications, Inc. except that an individual may download and/or forward articles via e-mail to a reasonable number of recipients for personal, non-commercial purposes.