RC PRODUCTS LLC introduces Beer Pager, a cup holder and remote device that causes the beverage container to light up and make a noise, so it can be located quickly. The can holder is also a foam, "koozie," which keeps the beverage cold. Beer Pager is offered in four versions: "Belcher," which has a yellow illustration of a beer bellied figure on a black background and elicits a burping sound; "Golfer," which has an appropriate figure in green on black, and has a sound resembling a golf ball being hit and falling into the cup; "Casino," with a blue figure on black, and the sound of a winning slot machine, and "Biker," with a red/orange biker on black with the sound of a motorcycle revving up.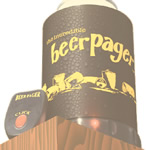 The cup or can holder works on four AAA batteries, which are not included in the package. They fit into the base of the unit. The remote, which is the size of a half dollar, does include a battery which will not wear out. It can be clipped on a pocket or belt loop.
The system uses radio frequency technology. It works at distances of up to 60 feet and even clears through walls. The minimum order is a box of 12 units, in assorted styles or all of one. The wholesale price is $9.95 a unit, and suggested retail price is $19.95.
For more information, contact:
RC Products LLC
32295-8 Mission Trail #171
Lake Elsinore, CA 92530
Tel.: 951-440-6017
Fax: 951-609-3844
Website: www.beerpager.com
Entire contents ©2022, Sumner Communications, Inc. (203) 748-2050. All rights reserved. No part of this service may be reproduced in any form without the express written permission of Sumner Communications, Inc. except that an individual may download and/or forward articles via e-mail to a reasonable number of recipients for personal, non-commercial purposes.