ASSURANCE INDUSTRIES has introduced de Tora Active, an adjustable arm band pouch that fastens easily and securely with a velcro strap. It is made of durable, flexible neoprene with terry cloth for comfort.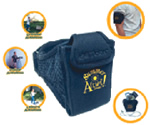 It contains three pockets in one to simultaneously carry an iPod, cell phone, and MP3 player, along with credit or ID cards, cash, and keys. It is worn on the upper arm, and is an easy, convenient way to carry these important items while jogging, bike riding, shopping, or participating in any activity that calls for keeping hands free.
The unit is offered in two sizes. The regular size fits people who have arms up to just over 16 inches long, which is more than 85 percent of the population. The super size de Tora Active unit fits those with arms up to a little more than 21 inches long.
The minimum order is 36 units. On orders of up to 100 units, the regular size wholesales for $6.45 a unit, and the suggested retail price is $13.95. The super size model wholesales for $6.95, and suggested retail is $14.95. Discounts are available on orders of 100 or more. Several different versions of the de Tora pouch are available.
Assurance also offers Perfect-O-Play, a 40 by 40 inch universal practice net for golf chipping, pitching, baseball, football throwing, tennis serves, and other ball sport practices. It has an adjustable metal stand, four different diameters of bullseye rings, and water bags to keep it stabilized. The minimum order for Perfect-O-Play is 12 units. Wholesale price is $79 per unit, and suggested retail is $139.99.
For more information, contact:
Assurance Industries
1205 Fulton Place
Fremont, CA 94539
Toll Free: 800-772-3217
Tel.: 510-770-0828
Fax: 510-770-0361
Website: www.assuranceind.com
Entire contents ©2022, Sumner Communications, Inc. (203) 748-2050. All rights reserved. No part of this service may be reproduced in any form without the express written permission of Sumner Communications, Inc. except that an individual may download and/or forward articles via e-mail to a reasonable number of recipients for personal, non-commercial purposes.