PS PRODUCTS, DBA Personal Security Products, offers Zap Blast Knuckles, the next generation stun gun. Zap Blast Knuckles is shaped and worn like brass knuckles, which makes it easy and comfortable to wear while jogging or walking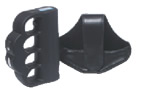 outdoors. The unit provides greater control than regular stun guns, and is less likely to be taken away or knocked off by an assailant. It is made of sturdy PVC plastic, and has a rubberized coating for greater comfort and firm grip. There is an on/off switch on the outside, easily operated by the thumb. Once it is on, the unit is easily activated with the index finger. Simply grip and squeeze. Zap Blast Knuckles emits 950,000 volts on contact and is legal in all jurisdictions. It is operated by two lithium batteries, which are included with the unit, along with a vinyl carrying case. The case has a belt loop for the product to be carried on a belt. It comes in a gift box that contains complete instructions. Zap Blast Knuckles from PS Products is the genuine unit that is made on this company's own patented design, which has been approved by the government. The minimum order is twelve units. The wholesale price is $30 a unit. On orders of more than twelve, the wholesale price drops to $28. The suggested retail price is $69.95.
For more information, contact:
PS Products Dba Personal Security Products
414 South Pulaski Street
Little Rock, AR 72201
Toll Free: 877-374-7900
Tel.: 501-374-7900
Fax: 501-374-7800
Website: www.psproducts.com
Entire contents ©2021, Sumner Communications, Inc. (203) 748-2050. All rights reserved. No part of this service may be reproduced in any form without the express written permission of Sumner Communications, Inc. except that an individual may download and/or forward articles via e-mail to a reasonable number of recipients for personal, non-commercial purposes.