SECURE-IT INC. introduces Travel Safe, a security case designed to help business people and other travelers protect valuables and important documents when they're on the road. It is made of high impact, strengthened polycarbon, and measures six inches square by one and a half inches high.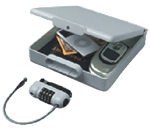 Travel Safe is designed to hold cell phones, iPods, money, wallets, credit cards, watches, passports, jewelry, plane tickets, and a wide range of other valuables. It fits easily into luggage and carry-on bags, and is available in a choice of black or white. Travel Safe locks in seconds.
It is secured with a resettable, four digit combination lock, and uses a vinyl coated steel cable to anchor it securely to a variety of stationary objects, such as poles, chairs, and tables, in hotel rooms and even poolside. The manufacturer notes that it is safer than hotel room safes, because hospitality staffs have keys to each room and safe.
The company also introduces a Travel Security Administration (TSA) Travel Sentry certified luggage lock. Because the Homeland Security office now requires that luggage be unlocked for checking by TSA personnel, TSA Travel Sentry allows TSA personnel to quickly unlock, inspect and relock travelers' checked luggage. The inspectors do not need to cut off an uncertified lock and damage the bag.
The suggested retail price for Travel Safe is $19.95 a unit, and suggested retail for TSA Travel Sentry is $9.95. Secure-It is seeking resellers. For more information on minimum orders and wholesale pricing on these and other security products, contact:
Secure-It Inc.
18 Maple Court
East Longmeadow, MA 01028
Toll Free: 800-451-7592
Tel.: 413-525-7039
Fax: 413-525-8807
Website: www.secure-it.com
Entire contents ©2022, Sumner Communications, Inc. (203) 748-2050. All rights reserved. No part of this service may be reproduced in any form without the express written permission of Sumner Communications, Inc. except that an individual may download and/or forward articles via e-mail to a reasonable number of recipients for personal, non-commercial purposes.