4C2B PRODUCTS LLC introduces Tub Lites, heart shaped lights designed to float in the bathtub. The lights contain LED bulbs and are designed as a romantic alternative to candles in the bathroom.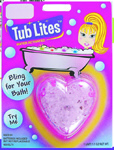 Tub Lites are made of tinted plastic and measure one and three quarter inches wide and one and a half inches high. Units are tinted in a choice of colors: purple, red, pink, blue and green. Tub Lites are water activated, each casts a glow of alternating colors upon contact with water. They are battery operated. The battery is not replaceable.
They are offered in two versions of packaging. A pack containing a single unit is targeted primarily to teens, and wholesales for $2 a unit. The suggested retail price of this package is $3.99 a unit.
A pack of two lights, targeted to adult women, wholesales for $3.50 a unit. The suggested retail price is $6.99 a unit.
The minimum order requirement is a case of 48 units that contain two packs, or a case of 72 units of one light packs. The latter comes with four countertop displayers, each of which holds a dozen units. The case of packages containing a single light includes four displayers, each to hold 18 units.
For more information, contact:
4C2B Products LLC
P.O. Box 12155
Tel.: 623-362-8812
Fax: 623-362-8813
Glendale, AZ 85318
Website: www.4C2B.com
Entire contents ©2021, Sumner Communications, Inc. (203) 748-2050. All rights reserved. No part of this service may be reproduced in any form without the express written permission of Sumner Communications, Inc. except that an individual may download and/or forward articles via e-mail to a reasonable number of recipients for personal, non-commercial purposes.