ITASCA MOCCASIN has expanded its line of genuine moccasins with new designs that feature elongated fringes. Newest among them is the Friski boot.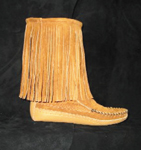 Friski is a 10 inch tall boot surrounded by a fringe that is seven inches long. It takes its name from the frisky movement it makes when you walk. It is offered in a choice of more than a dozen colors of suede and in elk and buffalo leather in buckskin and several shades of brown.
Friski comes in sizes for men and women. The wholesale price of Friski is $70 a pair. The suggested retail price is between $140 and $160 a pair or more. Another introduction, the Pony boot is a 12 inch tall boot with five inch fringe. Also new is a 16 inch tall knee high boot with five inch fringe. The Pony wholesales for $55 a pair, and the knee high boot wholesales for $65 a pair. The suggested retail price is approximately double wholesale.
Both the Pony and knee high boot can be ordered with a seven inch fringe for a slight increase in the wholesale price. The company requires a minimum order of $200, and it can include an assortment of all of the company's hand made moccasins. In all, Itasca Moccasin offers more than 10 different styles, and nearly all come in all of the color and leather choices.
For more information, contact:
Itasca Moccasin
P.O. Box 228
37144 US Highway 71
Lake George, MN 56458
Tel./Fax: 218-266-3978
Website: www.itascamoccasin.com
Entire contents ©2021, Sumner Communications, Inc. (203) 748-2050. All rights reserved. No part of this service may be reproduced in any form without the express written permission of Sumner Communications, Inc. except that an individual may download and/or forward articles via e-mail to a reasonable number of recipients for personal, non-commercial purposes.