FUNKY RICO introduces Fun Keyboard stickers for the keys of computer keyboards that give them personality and makes them easier to see and use. There are currently 42 different Fun Keyboard designs, and new ones are added all the time.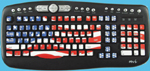 They come in kits, each containing stickers for all of the keys, including an assortment that can be used to make the set fit on all computer keyboards, regardless of brand, including laptops. The stickers are adhesive backed vinyl appliqués. They combine on the keyboard to depict a theme.
They are long lasting and secure firmly. The stickers can be cleanly removed, changed and replaced with a different theme. Among the themes are romance, animals, music, letters, nature and many others. Some glow to reduce eye fatigue, make the letters and symbols on keys easier to see, and illuminate in darker environments.
Stickers are packed in a clear case, arranged in keyboard configurations, so the theme is immediately recognizable. The cases are shipped in a box, which doubles as a countertop displayer.
The minimum order is 50 units, which can contain an assortment of themes. The wholesale price is $3.75 a unit. Suggested retail ranges from $10 to $14.99 a unit.
For more information, contact:
Funky Rico
4530 North Hiatus Road, Ste. 113
Sunrise, FL 33351
Tel.: 954-478-3878
Fax: 954-206-6450
Website: www.funkeyboards.com
Entire contents ©2021, Sumner Communications, Inc. (203) 748-2050. All rights reserved. No part of this service may be reproduced in any form without the express written permission of Sumner Communications, Inc. except that an individual may download and/or forward articles via e-mail to a reasonable number of recipients for personal, non-commercial purposes.