Kirk Knapp owned and operated a Grand Rapids, MI area investment banking and brokerage business for years, before selling it in 1999. At that time, the idea was to retire early and soak up a ton of rays at a locale in the sunny southwest.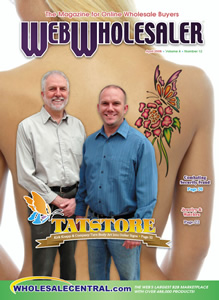 But successful, dyed in the wool businessmen do not retire easily. It did not take long for Knapp to become restless; he soon felt inclined to get back to work. Knapp and his family started dabbling in retail, selling impulse items from kiosk carts, and eventually building up a presence in 33 malls around the Midwest. "We had a total of 66 carts and were doing different things," said Knapp, President, TAT International, LLC, which can be found at www.tatstore.com. "I became interested in temporary airbrush tattoos [tats]. Therefore, I tested an assortment of tats on 11 carts. Before long, they started to do extremely well. I thought, 'How else can you turn 10 cents into $10 in two minutes, 150 times per day? This is cool.'" At about the same time, his daughter, Andria Knapp, gave him a call and told him that she knew a nail salon owner in Grand Rapids who wanted to get a tats system for his shops. Kirk put together a system for the small salon chain and sold his first, "Starter System," which he would later trademark and sell to countless stores. Retailers have flocked to his system because it is easy enough for a non-artistic design novice to run, has low overhead cost, takes up very little commercial space, and appeals to an amazingly wide consumer demographic. "We have sold to all kinds of businesspeople from different niches," he said. "It has not just been nail salons. We have major resorts like the Westin Maui Hotel chain and various tourist destinations. We have sold to entrepreneurs; people who have bought this and gone into business for themselves. In such cases, we taught them how to succeed in doing public events like fairs, festivals, amusement and theme parks, carnivals or anywhere people gathered. The system also does very well in jewelry and clothing stores."
Tats Mean Cash
One of the best indicators of whether or not an idea is an actual moneymaker is when the company behind it has needed to increase square footage. Knapp and his 11 person team just moved into a 2,700 square foot facility, which represents a 56 percent growth in overall space, compared to their last warehouse. "We expect sales to increase by 100 percent per annum over the next three years," he explained. "Our revenue so far this year is more than 100 percent above last year's." TAT International's best selling product is the Starter System(tm), which costs $2,497 and can be financed with only $797 down, along with monthly payments of $99. To qualify for financing, an interested party merely has to have a credit or debit card. "We do not run credit checks," Knapp said. "If you have bad credit and are willing to work, our Starter System will help you to get back on track financially. We have been loaning money to our customers for seven years, and they pay us back because they make money with our systems." To be clear, the Starter System is an end to end turnkey solution for anyone interested in utilizing a few extra feet of floor space for an almost ridiculous return on investment. And upon purchase, it comes out of the box with enough ink to do $15,000 retail. "I am 63 years old, been self employed all my life, and know of no other opportunity where an average person can make their entire investment back in one week, plus a profit," Knapp added. "Thereafter, it is all gravy."
Key Components for the System
Evidently, his retail partners feel the same way. For instance, TAT International's sales grew by a whopping 10 times in its second full year of business. Since then, accounts have continued to skyrocket, with double digit annual growth. Interested retailers are probably wondering, "How does the ink work, exactly?" "What else do I need to maximize profits?" There are a couple of key components to Knapp's system. Each is integral to why so many retailers are buying in and cashing in immediately:
First and foremost, Duratat(tm) ink is the safest, longest lasting and most user friendly. The ink lasts 10 to 14 days, compared to the next best option that lasts four to seven days on the skin. The ink is water based, but dries instantly. Most other tat inks are alcohol based. "Our ink dyes are actually the same dyes that are used in food products," Knapp clarified. "It is 100 percent organic, non toxic and even non allergenic."
The Power Palette(tm) is the only color changer invented particularly for doing tats. It gives the operator fingertip access to 13 colors and shades by turning a dial attached to an airbrush gun. This mechanism is designed to quicken application, while dramatically reducing maintenance and clean up.
Another great thing about the items: After they get plugged into the Starter System(tm), they can be leveraged across a huge demographic. Nowadays, people from all walks of life are getting self decorative with temporary airbrushed tattoos. "My mother in law is 86 years old," Knapp said. "Well, my wife put a TAT on her, and she just beamed. When she went back to her nursing home, she could not wait to show it off. And I have served real, live Harley Davidson bikers who also had real tattoos. You put smiles on all kinds of people's faces all day long. It is a lot of fun. And the fact that anyone can be taught to apply tats professionally, just by watching our free online training video, makes the idea a no-brainer."
New Products and Worldwide Sales
Over the last seven years, Tatstore.com (formerly Tatintl.com) has unveiled a number of creative products to the industry, including such definitive items as 3D Body Art(tm), Swarovski(tm) crystal accents, and Bahama Body(tm) sunless tanning solution (www.BahamaBody.com), as well as laminate posters, hand held flip displays and more. Tatstore.com will continue its tradition of introducing innovative pieces during 2008, with the following debuts: a clear coat, black light florescent ink; at least 1,000 new tat designs; low cost, self adhesive stencils; a new, improved dual action, dual pressure airbrush gun; and three new, low priced business kits. "In any case, we keep everything in stock, so within 24 hours, we can ship your order," Knapp said. "We normally use UPS Ground. But if you want something overnight, we can do that. And we ship all over the world. We have not been able to reach the penguins yet, but seriously, we are on six continents."
Online Communities
While many prominent retailers have successfully focused their efforts on web communities and user generated content, too few members of the wholesale sector are truly attempting to catch up in that regard. That is why it was refreshing to learn that Knapp and his team were taking their online community seriously at www.tatstore.com. Here are examples:
Their forum at www.tatstore.com/forum/ established the first online place of its kind for the growing airbrush tattoos world community. Even though the forum has been active for less than a year, it already has 600 members and thousands of posts, creating an abundant knowledge base for anyone interested in doing tats. "We project there will be 2,000 members by the end of this year," Knapp said. Tatstore.com offers the first online directory to tat artists (or "tatist") worldwide. There are currently about 300 tatists listed. Knapp believes there will be at least 1,000 tatists on the directory before year's end. Knapp plans to implement an affiliate marketing program this year that will let his customers achieve even more income. Also, Tatstore.com will have a new online shopping cart that will allow for product reviews, as well as a new blog, with experts on web design, marketing, SEO, SEM and tech support. In some cases, the blog will include online video training. Knapp has also signed up with reputable email marketing services provider, AWeber Communications, Inc., to continue to bolster his firm's abilities in that medium. "We expect to have 40,000 email addresses on our list by year end," he said.
Family and Fun
Every great executive is supported by an excellent team, but Kirk Knapp wanted to make sure everyone on his team got their due. He spoke about his hard working and conscientious daughter in law, Kelly Knapp, who insures all orders are shipped either the same day or the next day; his son, Ben Knapp, who puts his unusually warm nature to good use as customer service manager; his wife, Bonnie Knapp, who, is incredibly friendly, as she helps handle all financing issues; Corina Dopp, his in-house graphic artist, who designs custom stencils for customers; and Joe Stanul, TAT International's lead tech support rep. "When it comes to Joe, our customers trust him because he is honest and sincerely wants to help them with any problem they may have," said Knapp. A lot of TAT's success comes back to who is leading at the top. According to his employees, Knapp exudes a companywide sense of calmness and confidence, because he is an acutely self aware individual who duly stays informed about all the inner workings of their operation. And he motivates people to do great things on a daily basis. "The people employed at Tatstore.com are mostly doing what is fun for them," Knapp explained. "I am always asking, 'Are you still having fun?' I think their spirits are also buoyed by our growth and leadership in our industry. And what I like most about my job is that we are often helping people become financially independent and self employed." For more information, contact:
TAT International, LLC
4950A Plainfield Ave.
Grand Rapids, MI 49525
Tel.: 800-280-8198
Outside the U.S.: 616-868-9722
Website:
www.tatstore.com
Entire contents ©2022, Sumner Communications, Inc. (203) 748-2050. All rights reserved. No part of this service may be reproduced in any form without the express written permission of Sumner Communications, Inc. except that an individual may download and/or forward articles via e-mail to a reasonable number of recipients for personal, non-commercial purposes.