K & C HOSIERY LLC offers some especially good pricing on quality men's boxers and A-shirt tank tops. One of the company's specials on boxer shorts wholesales for $9 a dozen, which contains four three packs.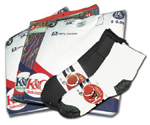 These are a blend of 65 percent polyester and 35 percent cotton, and are packaged in units of three, containing three different light colored plaid patterns. The suggested retail price is $8.99 for a pack of three. An even newer boxer program also includes packs of three: one each of three different dark colored plaids. These are of the same fabric blend, and the boxers have a button at the fly. They wholesale for $10 a dozen, and the suggested retail price is $9.99 for a pack of three. Both boxer programs are offered in sizes from small to extra large, and units of 2X and 3X are also available. The A-shirt, tank top program is offered in a choice of black or white. The white shirts wholesale for $11 a dozen, and suggested retail is $9.99 for a pack of three units. Black A-shirts reflect a growing trend. These wholesale for $12.50 a dozen, and like the white ones, are packaged three shirts to a unit. Suggested retail is $9.99. Both shirts are available in sizes from small to 3X. For more information, contact:
K & C Hosiery LLC
21 Wolf Street
Philadelphia, PA 19148
Tel.: 215-755-8587
Fax: 215-755-8591
Website:
www.kchosiery.com
Entire contents ©2022, Sumner Communications, Inc. (203) 748-2050. All rights reserved. No part of this service may be reproduced in any form without the express written permission of Sumner Communications, Inc. except that an individual may download and/or forward articles via e-mail to a reasonable number of recipients for personal, non-commercial purposes.