PRICE MASTER introduces the Chaser 5 Hour Energy Drink, a two ounce boost that immediately gives five hours of energy, with no crash after. The Chaser series includes five different flavors, all made primarily of natural vitamins and all sugar free.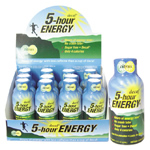 The flavors are: Lemon Lime, Berry, Orange, Decaf Citrus and Extra Strength Berry. The formulas contain no carbohydrates and typically have just four calories a serving. The active ingredients are vitamin C, niacin, vitamin B6, folic acid, vitamin B12, sodium, an energy blend and an enzyme blend. Units are offered in displayers containing 12 bottles of all the same flavor. The extra strength bottles are predominantly black; the citrus ones are packaged primarily in blue, and the others are in varying shades of red and orange. A single displayer of 12 units of the same flavor is the minimum order. Wholesale pricing depends on the quantity of the order. The suggested retail price is $2.99 a bottle. For more information, contact:
Price Master
57-07 31st Avenue
Woodside, NY 11377
Toll Free: 800-538-3873
Tel.: 718-626-7779
Toll free fax: 888-538-3873
Website:
www.pricemaster.com
Entire contents ©2022, Sumner Communications, Inc. (203) 748-2050. All rights reserved. No part of this service may be reproduced in any form without the express written permission of Sumner Communications, Inc. except that an individual may download and/or forward articles via e-mail to a reasonable number of recipients for personal, non-commercial purposes.