METAL ROCK MANUFACTURING COMPANY has assembled a collection of necklaces that combine pewter with glass. There are one dozen different designs, and the images are raised on the pewter surface, which rests on top of the glass.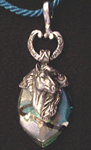 The pieces are about two inches wide. The designs include popular animals and other motifs. Among them are frogs, dragons, fairies and butterflies. The glass is colored and incorporates different shapes. This collection joins the company's extensive selection of pewter jewelry and figurines that encompass hundreds of designs and styles. All are rendered in meticulous detail. A catalog is offered free to retailers. The minimum order is $100, and can include an assortment of anything in the company's line. The new pewter and glass necklaces have a wholesale price of $2.50. The suggested retail price ranges from $5 to $7.50. For more information, contact:
Metal Rock Manufacturing Co., Inc.
174A Semoran Commerce Place, Ste. 103
Apoka, FL 32703
Toll Free: 800-638-2586
Tel.: 407-886-6440
Fax: 407-886-6245
Website:
www.metalrockpewter.com
Entire contents ©2022, Sumner Communications, Inc. (203) 748-2050. All rights reserved. No part of this service may be reproduced in any form without the express written permission of Sumner Communications, Inc. except that an individual may download and/or forward articles via e-mail to a reasonable number of recipients for personal, non-commercial purposes.