STEAL DEAL INC., a specialist in hot urban fashion, has added the newest items in this important youth apparel niche. They are Hanji denim shorts, which have skull and other designs embroidered on their back pockets, and rhinestone embellished T and polo shirts.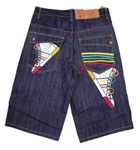 The Hanji shorts come in a choice of black or blue denim, and Steal Deal carries seven different designs. The designs feature death and glory themes, replete with skulls and hearts in intricate detail. The shorts are available in sizes 32 to 44, and sold in packs containing six units, which include six different sizes, all in the same design. The wholesale price is $15, and the suggested retail price, printed on the tags, is $199. There are more than 100 different designs of rhinestone embellished T-shirts and more than 50 different polo shirt designs, some of which also include rhinestones. Sizes range from XL to 4X. These are also sold in packs of six pieces, covering six sizes, all in the same design. The wholesale price is $5. Suggested retail prices, tagged on the shirts, range from $29.99 to $79.99. For more information, contact:
Steal Deal Inc.
1220 Maple Avenue, Ste. 609
Los Angeles, CA 90015
Toll Free: 800-416-6149
Tel.: 213-747-6347
Fax: 213-747-6330
Website:
www.stealdealinc.com
Entire contents ©2022, Sumner Communications, Inc. (203) 748-2050. All rights reserved. No part of this service may be reproduced in any form without the express written permission of Sumner Communications, Inc. except that an individual may download and/or forward articles via e-mail to a reasonable number of recipients for personal, non-commercial purposes.