SAY WHAT ENTERPRISES INC. offers Grow-ems, animated characters and creatures that are about two inches tall and grow to six times that size after soaking in water for a couple of days. There are approximately 1,000 different designs, and more are being added.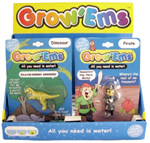 Each is hand painted. The designs are arranged in themes, such as the military, Noah's Ark, religion, holidays and more. While they are sold as singles, the themes make them collectibles that encourage repeat business. Designed as a parent/child activity toy, Grow-ems are safe and child friendly. They are not to be sold for children under the age of three. All pieces are individually wrapped, and the packaging shows how, submerged in water, the unit grows 600 percent. Once removed from the water, it shrinks back to its original size and can be used again. The suggested retail price ranges from $1.49 to $1.99, which represents a mark up of approximately 60 percent. The minimum order is 108 pieces, which come with a free floor displayer. It includes an assortment of 18 different characters and attracts attention by describing how Grow-ems grow. Countertop displayers that hold 12 pieces (six each of two different designs) are also available. For more information, contact:
Say What Enterprises Inc.
P.O. Box 79
Middletown, NJ 07748
Tel.: 732-957-9045
Fax: 775-908-3523
Website:
www.wholesalecentral.com/say_what/store.cfm
Entire contents ©2022, Sumner Communications, Inc. (203) 748-2050. All rights reserved. No part of this service may be reproduced in any form without the express written permission of Sumner Communications, Inc. except that an individual may download and/or forward articles via e-mail to a reasonable number of recipients for personal, non-commercial purposes.