CHATT PLUS has designed a purse hook, which is also variously referred to as a purse hanger or handbag holder. It has a top component that, in most designs, is a circle that is placed on the tabletop, and connected to it is a hook that drops below the table and holds the handbag.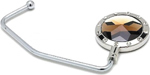 The circle has a rubber bottom so it doesn't move and doesn't harm the surface, yet keeps the handbag steady, secure and easily accessible. The purse hook is offered in a choice of three dozen different styles and designs.
Among them are different colors of metal; various sports balls, such as soccer and basketball; crystal, stones, enamel colors and even a martini glass. Still another design is a folding unit that folds into a disk about the size of a silver dollar, and it comes in a black velvet carrying pouch.
Typically, purse hooks measure three to four inches. The least expensive units are described as an economical collection, which is offered in a choice of enamel designs.
Wholesale prices range from $2.50 a unit for the economical model, which has a suggested retail of $3.98, to about $4.95 for an upscale design, with a suggested retail price of from $14.98 to $16.98. The minimum order is a single unit. Wholesale prices decrease with volume orders.
A countertop displayer is available, which holds from 24 to 36 units. It is a metal rack with arms on which the hooks are hung, and it allows retailers to display several different designs, while also show how the unit works.
For more information, contact:
Chatt Plus
8220 Glades Road
Boca Raton, FL 33498
Toll Free: 888-332-4288
Tel.: 561-883-2280
Website: www.chattplus.com
Entire contents ©2022, Sumner Communications, Inc. (203) 748-2050. All rights reserved. No part of this service may be reproduced in any form without the express written permission of Sumner Communications, Inc. except that an individual may download and/or forward articles via e-mail to a reasonable number of recipients for personal, non-commercial purposes.