KOLE IMPORTS has acquired a large quantity of wooden puka shell style necklace and bracelet sets on closeout. It is offering them for 39 cents wholesale, and the suggested retail price can run as high as $2.99.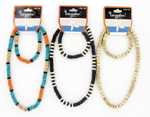 The sets come in eight different color combinations, and each matching necklace and bracelet set is mounted on a card, making it easy for customers to select favorite colors. The colors range from shades of browns and black to brighter combinations. The necklace is choker style, and the pieces are elastic, in order to be pulled on over the head and wrist.
The minimum order is 72 pieces. The company calls for a $100 minimum, which can include any other items carried by Kole Imports. It has recently added thousands of closeouts to its already large inventory, giving retailers an opportunity to obtain better quality merchandise at very advantageous pricing.
For more information, contact:
Kole Imports
24600 Main Street
Carson, CA 90745
Toll Free: 800-874-7766
Tel.: 310-834-0004
Fax: 310-834-0005
Website: www.koleimports.com
Entire contents ©2022, Sumner Communications, Inc. (203) 748-2050. All rights reserved. No part of this service may be reproduced in any form without the express written permission of Sumner Communications, Inc. except that an individual may download and/or forward articles via e-mail to a reasonable number of recipients for personal, non-commercial purposes.