BEAD SPROUTS LP has developed Wine Whisk, a dual purpose device that aerates wine in the glass and then seals the bottle. It is approximately seven inches tall and made of stainless steel.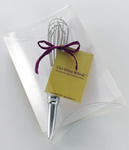 The whisk portion, which resembles a small kitchen whisk, has a one inch diameter and won't scratch glass, from the least expensive to top of the line crystal. Whisking makes freshly poured wine ready to drink without having to wait for it to breathe.
In addition to the whisk, the device has two silicone gaskets to reseal the bottle once some wine is poured. The silicone won't deteriorate, and Wine Whisk is dishwasher safe.
Each unit is individually packaged in a gift box. The company provides a free nine by six inch laminated counter card which says, "Aromatherapy for your wine." It shows Wine Whisk in use in a glass.
With every order of six units, Bead Sprouts includes a free chair displayer with a hole in the seat, for holding Wine Whisk. It also contains information on the benefit of the device.
The minimum order is $150, and can include any of the company's products, which include various wine stoppers and wine related paraphernalia, in addition to Wine Whisk. The wholesale cost of Wine Whisk is $10, and suggested retail is $19.99.
For more information, contact:
Bead Sprouts LP
3419 Westminster Ave., Ste. 302-G
Dallas, TX 75205
Tel.: 214-543-2342
Toll Free Fax: 866-549-3928
Website: www.winewhisk.com
Entire contents ©2022, Sumner Communications, Inc. (203) 748-2050. All rights reserved. No part of this service may be reproduced in any form without the express written permission of Sumner Communications, Inc. except that an individual may download and/or forward articles via e-mail to a reasonable number of recipients for personal, non-commercial purposes.