KAAA CORP. is the exclusive supplier of a series of decorative car seats that also offer protection and comfort. A patent is pending on the covers, which are of a quality velour fabric with foam at the back, and carry distinctive designs.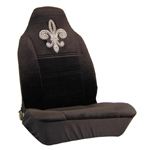 One series, called Joy N Joy, includes 14 different designs on a beige background. Another, called Crystalized, includes 60 different designs on a black background. The designs include cherry, sweetheart, a race car, crown, play girls and love and roses. There are also crosses, stars and a skull and crossbones.
There are units to fit all car seat models, and the fabric stretches for a tight fit. It is also easy to clean and repels water and stains.
KAAA Corp. also supplies car floor mats, seat belt cushions and license frames and plates. The seat covers are packaged individually on a hanger for easy display, and the design shows through the package.
The minimum order is $100 and can include an assortment of designs. The wholesale price for seat covers is $25, and the suggested retail price is $50 and up.
For more information, contact:
KAAA Corp.
1310 South Grand Avenue
Los Angeles, CA 90015
Tel./Fax: 213-747-7784
Cell Phone: 213-434-1110
Website: www.kaaasupplies.com
Entire contents ©2022, Sumner Communications, Inc. (203) 748-2050. All rights reserved. No part of this service may be reproduced in any form without the express written permission of Sumner Communications, Inc. except that an individual may download and/or forward articles via e-mail to a reasonable number of recipients for personal, non-commercial purposes.