IMPORMEXICO INC. is the exclusive supplier of a wide variety of leather items, all hand crafted and handmade by Mexican artisans. All are hand tooled, and most feature embossed designs.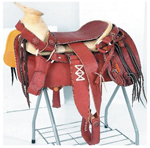 Belts represent a mainstay category with broad appeal to retailers of all kinds. There are more than 500 designs and colors. All come with metal buckles and have snaps that allow for exchanges of buckles. A majority of the belts are offered in a choice of black, brown, Italian tan or natural, raw leather. There are also specialty prints, such as ostrich and crocodile, offered in cognac, black, bone and orix, and belts of actual ostrich and crocodile.
Embossed designs include florals, a Texas longhorn, ranger and many Indian motifs. Among the most popular are two tone braided styles. Sizes range from 32 to 46, and to 54 in some styles. The minimum order is $300, and can include a selection of all of the company's products. The belts wholesale starting at $6.25, and the suggested retail price ranges from $15 to $20.
Impormexico also supplies 20 different designs of all leather, hand tooled saddles. Their wholesale prices range from $350 to $2,100, and have corresponding suggested retail prices of $700 and $3,500. The less expensive units are for regular weekend riding. The more expensive saddles are generally purchased for use in parades and other special events.
This company also supplies a full range of horse accessories, including bridles, ropes, spurs, horse bits and more. All of the products are made by hand.
For more information, contact:
Impormexico Inc.
7525 Rosecrans Avenue, Ste. 203
Paramount, CA 90723
Tel.: 562-272-0242
Fax: 562-272-0240
Website: www.impormexico.com
Entire contents ©2022, Sumner Communications, Inc. (203) 748-2050. All rights reserved. No part of this service may be reproduced in any form without the express written permission of Sumner Communications, Inc. except that an individual may download and/or forward articles via e-mail to a reasonable number of recipients for personal, non-commercial purposes.