ICONEUM LLC is the source for more than 500 different religious items, and carries the full range of Catholic related products, except books and printed matter. Newest among its approximately 150 different rosaries is The Rosary Card.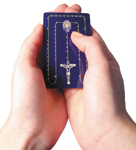 This is exactly the size of a credit card and made of the same plastic material. The rosary beads are like brail, and are contained on one side of the card. The other side carries one of several available holy images. The holy image side of the card can be customized for free to retailers that supply art. It can, for example, contain a business card or any other image, such as one designed for a gift store.
The Rosary Card is not designed to replace a traditional rosary, but to make it convenient to have a rosary on hand at all times. Iconeum is the exclusive supplier of The Rosary Card in the U.S. The wholesale cost is $1.65, and suggested retail is $3 to $3.50. There is a discount for large orders. The company calls for a $100 minimum, and it can include an assortment of products, all of which gain widespread appeal during the Easter season. Shipping is free on new orders of more than $100.
Among the company's other rosaries are units of wood, semi precious stones, glass, a visor unit for a car, and large wall units. Most wholesale in the $4.50 to $6.50 range, and one of the wall units wholesales for $10. The suggested retail prices are typically double wholesale.
In addition to rosaries, there are about 50 different styles of religious bracelets, which are especially popular among Spanish customers. These come in a range of materials, including wood, glass and mixed materials. Wholesale prices range from $1 to $6. The company also has a variety of crucifixes, religious icons and some ceramic statuary.
For more information, contact:
Iconeum LLC
P.O. Box 571
Mohegan Lake, NY 10547
Toll Free: 800-741-7754
Fax: 914-514-8047
Website: www.iconeum.com
Entire contents ©2022, Sumner Communications, Inc. (203) 748-2050. All rights reserved. No part of this service may be reproduced in any form without the express written permission of Sumner Communications, Inc. except that an individual may download and/or forward articles via e-mail to a reasonable number of recipients for personal, non-commercial purposes.