INDEPENDENT RETAILER magazine is now the official news outlet for Wholesale Central visitors. Each monthly issue is packed with new product ideas, supplier profiles, retailing news, and business strategies to help you succeed.

See new articles daily online at IndependentRetailer.com.
THE AMERICANA COMMEMORATIVE COMPANY has introduced The Lincoln Penny Tin, containing, "MonuMints," along with a printed insert that recounts the little known story of the original Lincoln Penny's history. The tin itself was made from a mold of the original Lincoln Penny first introduced in 1909, Abraham Lincoln's centennial year. This year, it should be noted, is the bicentennial year.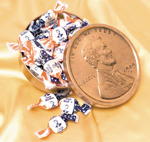 That penny was so controversial that it was discontinued after just one week. Protests ranged from the notion that no American coin should carry the portrait of a president, because it recalled European coins celebrating royalty, to the view that Lincoln was too important to be portrayed on a mere penny and that the coin carried the initials of the coin's designer. This naturally made that penny the "holy grail" of coin collectors. A second version of the penny was later minted, without the designer's initials.
The Americana Commemorative Company acquired one of the originals and developed a mold that replicated it exactly. The Lincoln Penny Tin, however, is about 4.3 inches wide and one inch deep. It contains four ounces of peppermint mints, made of an especially smooth formula, along with the printed insert explaining the penny's history.
The Lincoln Penny Tin is offered in a minimum of 24 units, for a total wholesale price of $78.96, or $3.29 a tin. The initial order comes with a Lincoln display countertop caddy carrying an image of the Lincoln Monument. The suggested retail price is from $8.50 to $9 a tin.
The company offers a money back guarantee. Tins that do not sell can be returned for a full refund. Additional commemorative coin tins will be rolled out over the next year for nickels, dimes, quarters, military themes and other history based items.
For more information, contact:
The Americana Commemorative Company
P.O. Box 6558
San Rafael, CA 94903
Toll Free: 877-288-4070
Fax: 415-532-2400
Website: www.lincolnpennytin.com
Entire contents ©2022, Sumner Communications, Inc. (203) 748-2050. All rights reserved. No part of this service may be reproduced in any form without the express written permission of Sumner Communications, Inc. except that an individual may download and/or forward articles via e-mail to a reasonable number of recipients for personal, non-commercial purposes.