INDEPENDENT RETAILER magazine is now the official news outlet for Wholesale Central visitors. Each monthly issue is packed with new product ideas, supplier profiles, retailing news, and business strategies to help you succeed.

See new articles daily online at IndependentRetailer.com.
DOUBLE DRAGONS DIGITALMATES INC. offers more than 500 different accessory items for iPods, cell phones, PDAs, MP3 and MP4 players and other hand held electronic devices.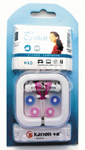 The most popular at the moment are MP4 and iPod earpieces that allow for hands-free use. These wholesale for $2.50 to $8.50, depending on the capacity and number of special features. Suggested retail prices range from $10 to $20.
There are hard and leather cases as well as skin cases for all brands and styles of cell phones, including the iPhone. The most popular now are units for the Blackberry and Sidekick.
The leather cases wholesale in a range of $1.15 to $1.75. The suggested retails are from $5 to $10. Hard cases and skins wholesale for $1.50 to $2.50, and suggested retail is $5 to $9.
Double Dragons requires a minimum of $100, and it can include a mix of any of its products. They include utilitarian accessories, such as phone chargers, as well as a wide array of fashion accessories.
For more information, contact:
Double Dragons Digitalmates Inc.
34 West 27th Street # B
New York, NY 10001
Tel.: 212-725-3366
Fax: 212-725-3377
Website: www.caseko.us
Entire contents ©2021, Sumner Communications, Inc. (203) 748-2050. All rights reserved. No part of this service may be reproduced in any form without the express written permission of Sumner Communications, Inc. except that an individual may download and/or forward articles via e-mail to a reasonable number of recipients for personal, non-commercial purposes.