INDEPENDENT RETAILER magazine is now the official news outlet for Wholesale Central visitors. Each monthly issue is packed with new product ideas, supplier profiles, retailing news, and business strategies to help you succeed.

See new articles daily online at IndependentRetailer.com.
STEAL DEAL INC. routinely carries from 250 to nearly 500 different styles and types of unbranded urban wear closeout apparel. Among them are brands such as Tank, God Body, and others sold by major retailers.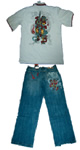 These hip styles encompass hats, T-shirts, jackets, shorts, jeans, jerseys, and often shoes, allowing consumers to wear popular styles from head to toe at affordable prices. The company carries primarily men's regular and plus sizes, but also offers a range of units for boys and women. Sizes typically range from Large to 6X, in keeping with the popularity for big, baggy, urban style.
More than 400,000 units are always available for quick shipping. There is no minimum dollar order. The products are typically packaged in six packs, each containing a single size, style and color. Six packs cannot be broken up.
T-shirts that generally wholesale elsewhere for $15 a unit are priced between $6 and $7.50. Shorts that typically wholesale for $40 a unit are sold at about $16. Our wholesale prices are designed to allow retailers to compete with very aggressive pricing, and still obtain a healthy profit margin.
Steal Deal also sells its own brand of transfer T-shirts, made to order. Retail customers can select sizes and colors. If the retailer supplies the art, it can order in quantities of just six units.
For more information, contact:
Steal Deal Inc.
1220 Maple Avenue, Ste. 609
Los Angeles, CA 90015
Toll Free: 800-416-6149
Tel.: 213-747-6347
Fax: 213-747-6330
Website: www.stealdealinc.com
Entire contents ©2023, Sumner Communications, Inc. (203) 748-2050. All rights reserved. No part of this service may be reproduced in any form without the express written permission of Sumner Communications, Inc. except that an individual may download and/or forward articles via e-mail to a reasonable number of recipients for personal, non-commercial purposes.