INDEPENDENT RETAILER magazine is now the official news outlet for Wholesale Central visitors. Each monthly issue is packed with new product ideas, supplier profiles, retailing news, and business strategies to help you succeed.

See new articles daily online at IndependentRetailer.com.
THE BARTER GROUP LLC has introduced My Sports Clock, a line of alarm clocks in the shape of sports balls. A built in action sensor turns the alarm off when the clock is thrown against a hard surface, such as the floor or wall.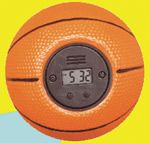 There are five versions of My Sports Clock, each replicating an actual sports ball. The round baseball, soccer, golf and basketball versions have a diameter just shy of four inches. The football clock, shaped like a football, is almost seven inches long by nearly four inches wide. All come with a base that holds them upright. The clocks are digital, accurate to the second. When the alarm rings, don't hold back on the instinct to toss or throw the clock. The alarm can also be turned off by a more conventional push of a button. The units are of durable plastic and operate on a replaceable lithium battery, which is included. The clocks are individually boxed, in a see through package that includes UPC coding and shows the unit and also demonstrates how My Sports Clock works. The wholesale price is $9, and it falls to $8.50 on orders of case quantities containing 60 units. Suggested retail pricing is more than double the wholesale and can reach to $24.95. For more information, contact:
The Barter Group LLC
2750 Glades Circle, Ste. 800
Weston, FL 33327
Toll Free: 888-888-5121
Fax: 954-206-0226
Website:
www.mysportsclock.com
Entire contents ©2022, Sumner Communications, Inc. (203) 748-2050. All rights reserved. No part of this service may be reproduced in any form without the express written permission of Sumner Communications, Inc. except that an individual may download and/or forward articles via e-mail to a reasonable number of recipients for personal, non-commercial purposes.