INDEPENDENT RETAILER magazine is now the official news outlet for Wholesale Central visitors. Each monthly issue is packed with new product ideas, supplier profiles, retailing news, and business strategies to help you succeed.

See new articles daily online at IndependentRetailer.com.
POPULAR CREATIONS adds the Faithful Friends collection of animal clocks to its Popular Pets by Popular line. Faithful Friends encompasses 36 different dog designs, four cat, and four horse designs of figurines that surround tabletop clocks. All the tails wag.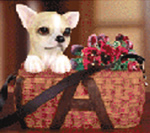 The dog versions encompass all of the most popular breeds, including a Beagle, Schnauzer, Dachshund, Boxer, German Shepherd and Chihuahua. There's a Calico, Tabby, Siamese and American Shorthair kitty clock, along with four different horse breeds.
A 48 piece displayer of assorted Faithful Friends dog clocks is offered for $240 wholesale. A displayer containing 24 assorted cat clock designs wholesales for $120. There is an opening order requirement of $150, and a $100 minimum on reorders.
It can include an assortment of any of the many products available in the Popular Pets by Popular line, including other items in the Faithful Friends collection. That includes feline and canine versions of checkbook covers, address books, pillows, beaded bags, beaded pins, night lights and many other products.
In units of two dog or cat clocks of the same design, the wholesale price is $5 a unit, and it falls to $4.50 a unit for six or more units of the same design. On orders of two units of same horse designed clocks, the wholesale price is $5.50 a unit, and on a minimum of six identical horse clocks, the wholesale price is $5 a unit.
For more information, contact:
Popular Creations, div. of Popular Imports
661 Hadley Road
P.O. Box 836
South Plainfield, NJ 07080
Toll Free: 800-756-8899
Tel.: 908-822-1828
Fax: 908-822-1838
Website: www.popularcreations.com
Entire contents ©2022, Sumner Communications, Inc. (203) 748-2050. All rights reserved. No part of this service may be reproduced in any form without the express written permission of Sumner Communications, Inc. except that an individual may download and/or forward articles via e-mail to a reasonable number of recipients for personal, non-commercial purposes.